Group ASTRO achieved a successful crowd funding for production of their first photobook.
According to a crowd funding platform Makestar, boy group ASTRO achieved 343% of their goal for production of their first photobook, receiving over 100,000 dollars with fans all over the world participating.
This project for production of ASTRO's photobook was created to make special memories with their fans, and was fundraised through crowd funding method.
Makestar stated, "Their fandom scale and its growth was almost unbelievable from a group that's only debuted less than a year ago. The number of foreign fans' participation in the project was almost scary in its growth. Their participation was so fast, before we could release the numbers for the next goal, it was already achieved so we had to fix the page again in a hurry."
By participating in the fund raising, participants can receive a limited edition of ASTRO's photobook with their name on the credits. Participants will also be able to receive a poster, photo card set, postcard set, making videos and other special items for achieving stage goals. And for random 100 fans who participated, they will be invited to the special fansign event to greet ASTRO face to face. Participants' funds will also be used to congratulate ASTRO on their first anniversary through a subway ad in Seoul.
The special fansign event will be conducted in February, and all profits from the photobook production project will be donated.
Must Read : Photo )) Astro For HIGH CUT VOL.187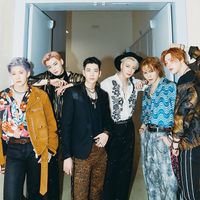 Became a fan of ASTRO
You can now view more their stories