EXO BaekHyun's cutest triangular mouth was found in pictures of toddler BaekHyun.
Let me warn you before starting the post. You better be cautious of your heart, because Baby BaekHyun is too cute AF in this posting. Baby BaekHyun just resembles grown-up BaekHyun's mouth. How did it come? Do you know the mouth of babies who are just born have triangular mouth because they have small faces and babies' cheeks have gotten plump, their line of lips become triangle when they open the mouth. However, surprisingly, BaekHyun still got triangular lips even though he has grown up into adult man. How cute and lovely! Fans are reacting toward this discovery, calling him as baby BaekHyun. Due to his triangular lips, BaekHyun looks just like a baby. Let's look at how lovely BaekHyun's lip is! 
Must Read : Korean Beauty Box: BaekHyun's Fiery "Ko Ko Bop" Make-Up Look
You can how BaekHyun's triangular lip has upgraded into adult one. Let's trace after BaekHyun's history!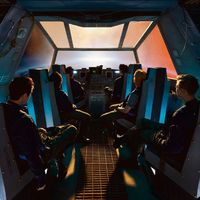 Became a fan of EXO
You can now view more their stories