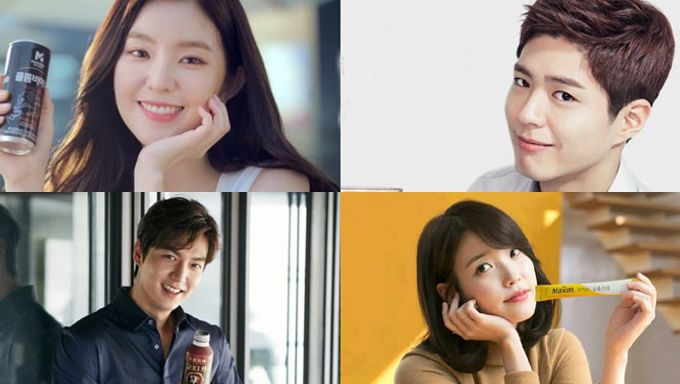 After the best 16 Korean celebrities doing commercials for beverages you will want to buy, here is the list of idols and actors currently or until very recently representing coffee brands in Korea.
Coffee's advertisements tend to be very stylish! The brands' models are also put in their best lights.
Is your favorite idol doing one of those commercials?
Lee SeungGi - ILDONG
The brand decided that this coffee suits perfectly with Lee SeungGi's image and took him as their model in December 2017. The actor certainly has an image of a healthy warm and kind man very much liked by Koreans.
Gong Yoo - MAXIM KANU
Gong Yoo has been representing the brand for such a long time. Since 2011! He is ready for this spring.
IU - MAXIM
Representing the brand since 2014. IU is model for a coffee without sugar, but with cream.
Won Bin - MAXIM T.O.P
Top Korean star Won Bin is representing the brand since 2008. He filmed that commercial last year.
NamKoong Min and Ahn JaeHong - MAXIM 
The two actors got to model for the brand for the first time. In the commercial, they acted as Korean officer workers.
Lee MinHo - GEORGIA
Lee MinHo, before enlisting in the army, extended his contract with the can coffee for two years.
Park BoGum - Nescafe 
Nescafe chose Park BoGum in 2017 as their new model. The actor acts perfectly in the commercial.
Suzy - Nescafe 
Suzy started to model for Nescafe back in 2014. She is the representative of celebrities loved by Koreans, she has many commercials.
Red Velvet's Irene - MAXWELL
Irene also got a coffee commercial. It is can coffee, she filmed it last summer.
Wanna One - BABINSKI Cold Brew
Wanna One is also doing Babinski's coffee commercial.
Read More : 3 Handsome K-Pop Idol Kings Born On March 30th