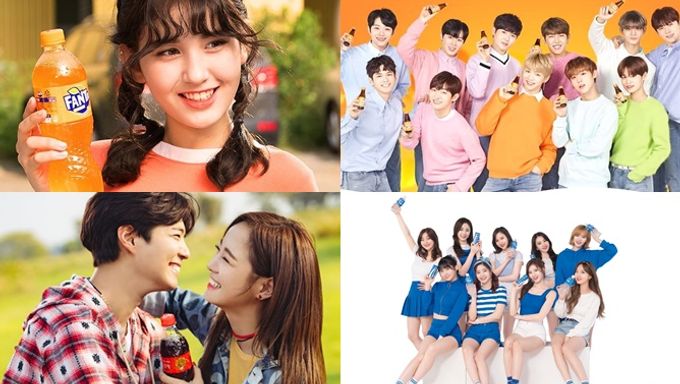 Here is the list of idols or actors that are currently modeling or that just finished their modeling contract for beverage commercials in Korea. The list does not including dairy drink, coffee, and alcohol commercials.
Korean advertisements sometimes tend to be better than fashion magazines, they put the celebrities in their best lights. Right now in Korea, BTS, EXO, and Wanna One are the idols with the most endorsements, however, BTS and EXO do not have commercials for drinks.
Is your favorite idol doing one of those commercials?
Vita 500 - Wanna One and Suzy
Vita 500 is a Vitamin C drink sell in Korea. Suzy did Vita 500 for quite a long time, since 2013! The brand image got better thanks to the idol. Her contract ended at the end of 2017.
Wanna One just got the contract with Vita 500 for the 18th anniversary of the brand. The commercial got released this month, they start representing the brand from March 17th. They take part of the campaign organised by the brand which is aimed to the youth.
Yo Hi Water - Wanna One
Yo-Hi brand sells products made out of probiotics such as yogurt biscuit or water. When Wanna One got the contract last year autumn, probiotics water came out. The brand sold 2.5 times more since the group is representing them.
Pepsi - iKON
INFINITE used to do Pepsi commercial but iKON got the contract since 2016. Pepsi even has a special contract with the Korean fast food chain Lotteria where you could see iKON sometimes printed on their glasses, but not anymore since Wanna One is doing Lotteria's model.
Coca-Cola - GuGuDan's SeJeong with actor Park BoGum
Park BoGum had his first Coca-Cola commercial back in December 2016. During the 2018 PyeongChang Winter Olympics, he did the beverage commercials with the famous Korean figure skater Kim YuNa. The fans could not help but notice their chemistry.
GuGuDan's SeJeong is model for the first time for Coca-Cola this spring,
Pocari Sweat - TWICE
In the past Pocari Sweat used to have young actresses as model of their brand. TWICE is therefore the first girl group to represent them and that since 2 years.
Fanta - Jeon SoMi
Jeon SoMi is one of the girl idols that has the most endorsements currently in Korea. She started modelling for Fanta in summer 2017.
Lipton - MONSTA X
MONSTA X only briefly represented Lipton Ice Tea. It was for a 2017 summer special. You probably could not miss the Lipton drinks in their 'NEWTON' MV.
Chilsung Cider - Park SeoJoon
Chilsung Cider is a Korean soft drink close to Sprite taste that exists in Korea since 1950. Park SeoJoon got the contract last summer.
Trevi - BLACKPINK
Trevi is a sparkling water. BLACKPINK represents the brand since May 2016. In the past, actresses Han YeSeul and Go JoonHee used to be their model.
Arogold D - Kim JiWon
Kim JiWon got popular through the drama "Descendants of the Sun" (KBS 2016) and "Fight for My Way" (KBS 2017). The actress started to represent the vitamine drink brand in June 2016.
Sprite - APink's Son NaEun
Sprite Korea uses many celebrities such as Suzy, actress Kang SoRa, BTOB's SungJae, AOA's SeolHyun, iKON's Bobby, actor Song JoongKi, etc. APink's NaEun started her contract last October.
ChoJung - Kim YooJung
Kim YooJung filmed her first commercial with ChoJung back in February 2015, not sure yet if her contract will be extended, the current one end next month.
Toreta - Park BoYoung and Yang SeJong
Park BoYoung of "Strong Woman Do Bong-Soon" (JTBC 2017) signed a contract with Toreta last year spring. She was doing the commercial alone.
This year March, Yang SeJong was recently added.
Tropicana - MOMOLAND's JooE
MOMOLAND's JooE is known for her bubbly personality. She got famous for her hilarious dancing and energy. The idol recently received many commercial offers and started her contract with Tropicana last autumn.
Read More : Kpopmap Charts: 10 Idols Making Bank In Endorsement Deals