Best 6 Burgundy Makeup Looks of K-Pop Male Idols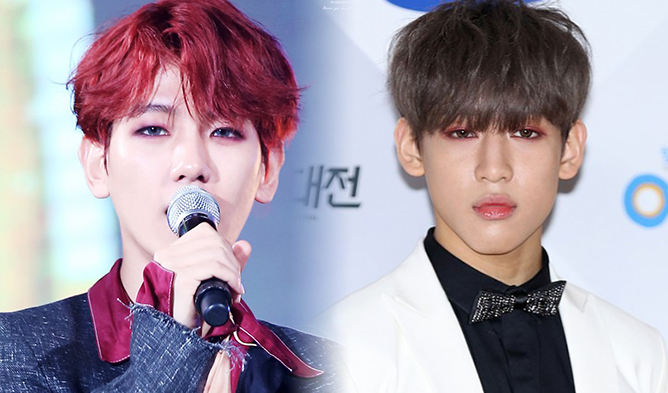 Fall is definitely the season for burgundy. Here's 6 male idols who rock with that sexy color.
That guy looks cool with burgundy. What does it mean? and what does it imply? Burgundy is the color for sexy and chic image. It makes someone look more mysterious. Does red eye shadow scare you? Try Burgundy shade instead just like 6 attractive idols here. I bet you'll fall for them with those really vampy, monochromatic burgundy makeup look. Dark, blood-stained red is a huge color for fall! 
Must Read : Korean Beauty Box: BaekHyun's Fiery "Ko Ko Bop" Make-Up Lookt
To be in the groove, this season, Burgundy is the boys' color of choice. Here we go!
1. EXO's BaekHyun
BaekHyun has got some attention for his perfect looks with burgundy makeup looks. He put burgundy on not only on his eye shade but also on the under line of his eyes to make it look more exotic.
2. GOT7's BamBam
BamBam showed off his big beautiful eyes with burgundy makeup. Also, he matched makeup with various hair colors well.
3. SEVENTEEN's The 8
The 8's point is to make his makeup look more soft even with burgundy! Because he already got those pretty big eyes.
4. VIXX's HongBin
HongBin tried dark eye liners with shade colors of dark tones in order to make his eyes more moody.
GIF
5. BTOB's Jung IlHoon
IlHoon showed red hair color with the burgundy makeup look. IlHoon, who parted his hair in the ratio of 2:8, which is quite difficult to pull off, looks so classy with that pomade hair style. 
6.  BTS's JungKook
JungKook also pulled off his soft burgundy makeup look. Not too-much burgundy shadow on his eyes are so effective to make him way handsome.