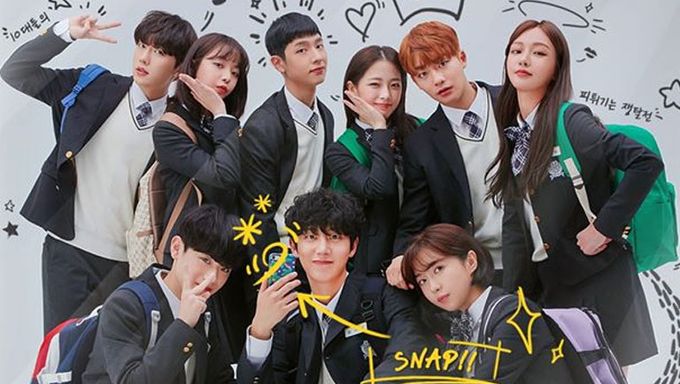 "Best Mistake" also called "When You're On The Blacklist Of Bullies" is back with a season 2! The first season was popular in and out of Korea.
It is based on a popular video game with over 2 million downloads. It is a dating simulation game released in 2016. For more about the game, you can check here and you can download the game an App Store and Play Store.
The first episode of the season 1 reached more than 8 million views on YouTube and the total amount of views for the first season is over 70 million views.
The cast of season 1 and 2 are quite similar with the addition of new characters. The lead character stays the same with YeonDoo acted by Lee EunJae. For season 2, Keum DongHyun who appeared in "Produce X 101" joined in the cast. It will be his first attempt in acting and many are interested in his acting debut.
The web drama is available on V-Live and YouTube, check the links for season 1 and 2 at the end of the article.
Here is more information.
Best Mistake 2 (2020)
Information
Title: Best Mistake 2/When You're On The Blacklist Of Bullies 2/Iljinege jjikhyeosseul ttae2/일진에게 찍혔을 때2
Director: Lee YooYeon
Writer: Yoon SiSoo
Network: KOK
Runtime: From Mar. 31 on V-Live, From Apr. 2 on YouTube
# of Episodes: 16
Language: Korean
Summary
It tells the love and friendship stories of teens. It is a new semester with new faces. YeonDoo is now in the last year of high school. Her life is complicated with misunderstandings and conflicts. What should she choose love or friendship?
Cast
Lee EunJae as Kim YeonDoo
YeonDoo is a kind and honor student. She becomes busy in her last year of high school because she wants to protect her relationship with HyunHo, her studies, and her friends.
Kang Yul as Ji HyunHo
HyunHo is harsh with everyone except for YeonDoo. He is an affectionate lover to her. For her sake, he studies even if he hates it to death.
Lee JungJun as Choi SeungHyun
SeungHyun is a baseball genius who got transferred to the class of YeonDoo. He is cold and taciturn. His motto is "You have to be fair in everything".
Park EHyun as Ryu Seol
Ryu Seol is a strong girl crush student who has loyalty. She always leads the way for her friends. If anything is interfering with her friendship, she will make sure to solve it.
THE MAN BLK's Yoon JunWon as Seo JuHo
JuHo is a model student with a lot of secrets. He is always taking care of his friends silently and from behind.
THE MAN BLK's Choe ChanYi as Jung JiSung
JiSung is the cutest boy in school. In the past, he did not really date. Now, he met someone he likes like destiny and he is crazy in love with her.
Ju HyunYoung as Ahn YuNa
YuNa is the best friend of YeonDoo. She has a cool personality and always takes care of YeonDoo.
Yang YuJin as Yun AhRa
AhRa is the new friend of YeonDoo. She has the same nickname as her. She is extravagant and kind.
Keum DongHyun as Kang AhHoon
AhHoon is living in the same building as YeonDoo. He is her hoobae in the second year of high school. He often hears that he is the second Jung JiSung.
Posters & Teaser
Here is the teaser.
Here are the official posters.
Links
You can watch the web drama of KOK YouTube and V-Live channel.
For those of you who missed season 1, you can start watching the first episode below.