BTS held a press conference today to reveal all their thoughts and special moments about their 2017 Billboard Music Awards experience.
Everyone understands the big moment when BTS made K-Pop history by becoming the first group to ever attend the prestigious music awards in the U.S. Not only did the boys become the first group to attend the event, but also the first group to win an award - the Top Social Artist Award. To celebrate their impressive feat last week, the boys are back home to open a press conference to share all the exclusive moments about the night.
Must Read : BTS Beats Justin Bieber & Becomes First K-Pop Group To Win At The Billboard Music Awards
Kpopmap visited the boys to fill in the A.R.M.Y around the world - all about the night.
1. The Recreation Of the Red Carpet
To open up the press conference, the boys held a special time for photos. The 7 members were all dressed in the similar dress code that they donned for the red carpet event at 2017 Billboard Music Awards. In chic black and white outfits, each of the boys looked so damn good as they posed with each other, while holding their first BBMAs award.
2. A.R.M.Y, A.R.M.Y & A.R.M.Y
From the beginning to end of the day, the boys had only one person to continually thank for their impressive award - their fans, A.R.M.Y. BTS revealed that they think of their fans as friends, and even family. JiMin explained, "Our fans seem to want to know a lot about what we think. So, we want to try to become a group that communicate well with the fans." It can be clear that the boys only had one thing in mind during their Billboard Music Awards win.
3. Red Carpet Experience
One of the hottest events at the BBMAs are the red carpet photo wall and interviews. BTS gave us an inside look to what it felt like to walk the exclusive red carpet. Rap Monster recalled, "It was such an out-of-this-world experience. We're used to flashes all the time, but the amount of flashes shining at us as we got out of the car was an insane amount." V, who was chosen as the best dressed out of the best dress male group, shyly expressed how he was stunned to be honored in that way.
4. The Third From The Left
Then they moved on to discuss the member who received special attention for their red carpet appearance - especially for his remarkable visuals. The hashtag, '#ThirdFromTheLeft', trended on Twitter after Jin was recognized by people around the world as the best looking member. Jin was not shy in clearly declaring, "I guess the standard of beauty is the same all around the world. Even during the interview, I said, 'Yes, I'm worldwide handsome, you know?'" The members then all turned their heads down as they snickered at their bold hyung. However, when asked if they felt embarrassed, all of them responded, "No." 
5. BTS's Top Social Artist Award
The boys recalled the time that exact moment when their names were called up as the winners of BBMA's Top Social Artist Award. BTS was the chosen one to dethrone Justin Bieber after his 6 consecutive wins - to the point that the award was nicknamed the Justin Bieber award. The boys revealed that when they went up to receive their award, they were surprised to see a countdown clock for acceptance speeches. Unfortunately, Rap Monster was the only one who was able to say something, and JiMin expressed that it was his one regret during the night. He wished he was courageous enough to also add in a few words. He felt if he said a few things in Korean, it would've looked pretty cool.
6. BTS As One of the K-Pop Leaders
With such an outstanding list of achievements, BTS has now become one of the leading representatives of K-Pop. With such heavy burden on their shoulders, they were asked how they felt being compared to their senior who made it in the U.S. market - PSY. Rap Monster explained, " Our senior, PSY, was able to achieve an explosive syndrome of global attention thanks to his very creative music video and contents. We can't yet say that we can be compared to such a level, but we believe that if we continue to work hard in what we do, we'll eventually hear good news." Jin added on, "We were able to come this far thanks to our seniors who paved the way before us. We hope that we'll be able to do the same for our juniors."
7. Idols of the BTS Idols
Many K-Pop idols look up to BTS as their role models, but BTS also have idols that they look up to, and are so excited to meet. Suga revealed that it was exciting to actually meet rapper Drake in person. V was so ecstatic to see Celine Dion perform, and bragged that when she heard V was his long-time fan, she invited the group to her concert. Unfortunately, they were unable to attend due to other schedules, but V made sure to add that he will be excited to go in the future.
8. BTS's Thoughts On Debuting in the U.S.
BTS was also invited to The Chainsmoker's rehersal for the BBMAs, where the two groups had fun conversations about music. When the EDM duo raises suspicions about a possible collaboration, Suga responded that although it's something that's not set in stone, he's very open and looking forward to working with the hot duo. Rap Monster then addressed the rumors that BTS will be preparing for a debut in the States. He replied, "We're not planning on pursuing the dream of officially debuting in the States. We believe that we should first continue to do what we do best, and just focus on getting closer with our fans by building a solid fandom. We want to continue to rap in Korean, and do things that only BTS can do - instead of switching gears to fit a new market."
9. BTS's View On Foreign Fans
With such a large amount of their fan base consisting of foreigners, BTS was asked how they felt about their foreign fans. They explained that they believe their foreign fans love them for having a unique sound that's trendy, but close to pop, with a dash of kalgunmu. With the refreshing take in music, BTS was able to reach such a large fandom. Rap Monster also explained, "We want to become a group that communicates well with our fans. That's why my latest goal is to master Japanese. I want be able to able freely speak and converse with our Japanese fans more."
10. BTS's Love For Big Hit & Brothers
BTS revealed their secret in becoming a successful group to debut out of a non-giant entertainment company. When BTS first debut under Big Hit Entertainment, the group failed to immediately find success like the many groups from giant labels like EXO, iKON, GOT7 and more. It took them a good while, but now they're flying higher than ever. When asked what the secret to their success is, the boys credited it to trust. They revealed that they are completely trusting of Big Hit Entertainment, in helping them create the types of music that each member lives for. They also revealed that terrific teamwork is key. Suga recalled a time when they knew each other so well that JungKook knew it was Suga who walked into the bathroom just by his footsteps.
11. BTS Throughout the Years
BTS has surely grown in to fit the crown as the K-Pop kings. Although the press conference was packed to the tilt with reporters from all over the world, the 7 boys were completely relaxed and completely in charge of their demeanor. JiMin and J-Hope would continually play jokes on one another, while each of the members added in jokes to get the crowd laughing. Even with all the fooling around, the boys were perfect professionals when it came to answering questions, as they would continually be scribbling away to organize their thoughts.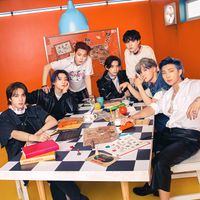 Became a fan of BTS
You can now view more their stories