The face of BigFlo's new member, SungMin, has finally been revealed on V App.
Group BigFlo revealed SungMin's face through V App.
On 5th, through the "2017 New Year LIVE! Revealing the New Member!" show, BigFlo revealed their new member, Sungmin's face.
Spending only a few seconds being surprised at SungMin's handsome face, BigFlo showed their usual beagle-ness on the show. With the two members who have not yet been revealed, they played several games to communicate with fans such as lemon eating contest, passing papers with mouths, and biscuit eating contest.
BigFlo, who also released the faces of their other two new members, posted on their SNS "All members of BigFlo has been revealed for Wave (fans)." with a group image.
Starting with YuSeong, BigFlo has been releasing individual teaser videos for their upcoming new album. Many are keeping an eye out for the 6 different charms BigFlo will show in future.
Must Read : BigFlo Profile: HyeYoom's Boys Here to Obliviate with Their Big Flow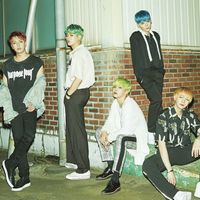 Became a fan of Bigflo
You can now view more their stories