Now that YG Entertainment girl group BLACKPINK are active in the US, already having become superstars, it seems that certain media outlets in the US have begun to hunt them down to get photos and ask questions, something that many celebrities in the US often have to deal with.
BLACKPINK looked quite uncomfortable when Hollywood Fix sent their team after the girl group.
The members looked confused and startled when a staff member of Hollywood Fix continued to poke at them despite them having entered their car.
@hollywoodfix and the paparazzis that followed Blackpink needs to be stopped. do not follow them with awkward and irrelevant questions. Look how scared and uncomfortable they all are! ??‍♀️never seen Jisoo so sad tbh??‍♀️SMH pic.twitter.com/X6g4JOryYi

— lucaiisa?? (@nonagonlisa) April 17, 2019
BLINKs have been taking it to Twitter to raise awareness, while asking paparazzis from invading their girl group's privacy.
I keep seeing people say that it is normal for things like that to happen in the US with the paparazzi BUT just because it is normal DOES NOT mean it is okay and it SHOULDN'T be happening with US artists either!! BLACKPINK and all other artists deserve their privacy PERIOD.

— ?? ?? (@Syrxinge) April 17, 2019
@ paparazzi in america can y'all give space to BLACKPINK, let them uhm B R E A T H E. They looked scared damn. Ik y'all are doing your jobs but there's this thing called privacy and common sense. You don't go ask another kpop group if they like another group. This is just rude

— A??//PINKCHELLA (@TeamSuperMYS) April 17, 2019
A big slap to those paparazzi's faces please.? They're making our Queens uncomfortable ? know the word Privacy ?? #BLACKPINK @ygofficialblink

— Lalisa M. (@limariomnbn) April 17, 2019
man, that look... she clearly is scared! paparazzies in the US are in another level of creepyness. They need more bodyguards @ygent_official @ygofficialblink !!! this is different from Korea, these paparazzi can go crazy and I DON'T WANT ANYTHING BAD TO HAPPEN TO MY GIRLS!

— ˗ˏˋ jp♡ • ?ˎˊ˗ (@luceritogrullon) April 17, 2019
Read More : BLACKPINK Is The Bridge Between US Pop & K-Pop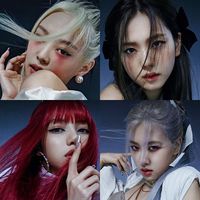 Became a fan of BLACKPINK
You can now view more their stories