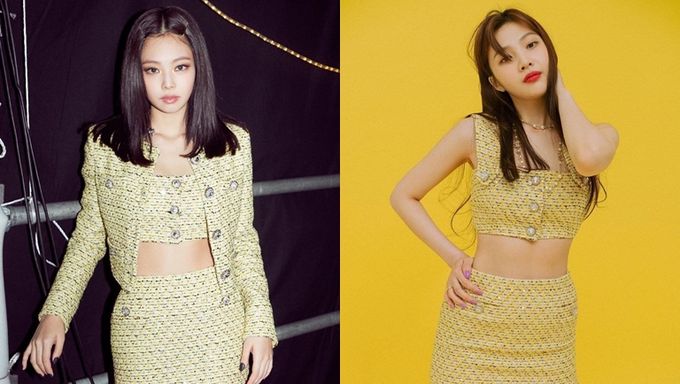 There are many occasions where K-Pop idols were seen in the same outfits and they do not go unnoticed by fans!
Recently, it had came to the attention that there were 3 different occasions where BLACKPINK's Jennie and Red Velvet's Joy were seen wearing the same outfits!
Despite them being the same outfit, one could easily tell that the two female idols give off different vibes.
In addition, the difference in makeup, styling and the way they were photographed had also allowed many to see how the same outfit can look different.
Moving on, the two girls definitely gave off summer vibes when they were spotted with a cute daisy top some time ago.
Many pointed out that Jennie has a sexy-cute vibe and Joy has a refreshing aura with her.
The most recently outfit would probably be the two-piece yellow outfit!
Jennie had wore the jacket and painted her nails black but Joy had styled it with a necklace and also did not put on the jacket.
Many fans who had seen the two shared that there is no point in comparing who looked better since both of them are gorgeous in their own way.
BLACKPINK will be making a comeback on June 26 with their pre-release single. Red Velvet's Irene and SeulGi will also be debuting as a sub-unit in July.
Do you also like how the two idols look awesome in the same outfits?
Read More : Red Velvet's Joy Gets Creative With Colours On Instagram
Read More : Red Velvet's Joy And GFriend's YeRin Show Off Absolute Friendship