If you haven't heard of jewelry brand Thief And Heist, it's about time you search for it online and check it out.
Created by jewelry designer Francesca Amfitheatrof, who has designed for Tiffany & Co. and is currently Louis Vuitton's designer, Thief And Heist is one of the hottest trendsetting brands out there in the fashion industry.
But it seems that some BLACKPINK fans, one in particular, did not want JiSoo playing a big role in promoting the jewelry brand.
One particular comment stated:
"Are you kidding me? Hahaha if you want to run your business your best option is Jennie Kim. She's Korean IT girl Jennie is more famous than JiSoo in Korean and in very country."
The grammar is obviously broken but you get the point.
Eventually, Thief And Heist had to delete their post because there were so many negative comments directed towards JiSoo.
thiefheist deleted their first post with jisoo because of the hate comments and reposted the picture with #nohate hashtag but these assholes didn't stop from camping under that post and now they deleted the picture again.

— Pᴏɴʏᴛᴀɪʟ Rᴀᴘᴘᴇʀ (@splitrapper) May 5, 2019
Last time i checked when i purchased they deleted the second one too.

— FlyingUnicorn (@FlyingUniPanda) May 5, 2019
While it is understandable that Jennie would have been another great choice for the jewelry brand, perhaps it's time that some of the fans who are complaining see that there are also undeniable great qualities in JiSoo as well when it comes to fashion and trends.
At the moment, JiSoo fans have been showing lots of love and support for her as they began to flood Thief And Heist's Instagram post with encouraging words.
Let's flood thiefheist & amfitheatrof IG with positive comments and send them support para matabunan ang mga HATERS

too BLESSED to be STRESSED ☝?#BLACKPINK #JISOO pic.twitter.com/HGlQDYc5Il

— sooyaaa ?? (@iblackpinkeu) May 5, 2019
Read More : Find Out Why BLACKPINK's JiSoo, Lisa, & Rose Looked Shocked At Jennie During Recent Performance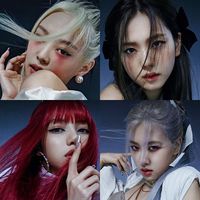 Became a fan of BLACKPINK
You can now view more their stories