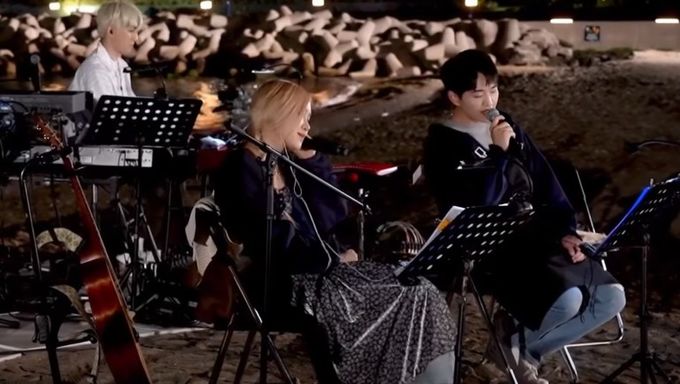 "The Sea I Wished For" is JTBC's latest healing variety show where some of the most popular Korean celebrities come together to run a seaside bar. A very special element of this bar is the live music and entertainment in the evening. The show features SHINee's Onew, AKMU's SuHyun, Lee DongWook, Kim GoEun, Lee JiAh and Yoon JongShin.
In the recent episode of "The Sea I Wished For", BLACKPINK's Rosé joined the group for a live performance of Jason Mraz and Colbie Caillat's popular song 'Lucky'. Both Rosé and Onew are known for their unique vocal tone and it is only obvious that a duet with these two would be a treat to the ears.
The duo oozed musical chemistry and took the already beautiful song to a whole new dimension. The ambiance, perfect with the dimly lit fairy lights and the gentle roar of the sea, elevated the mood. It seemed as though the two had been performing together for forever! Fans couldn't help but gush over the beautiful combination of their voices either as they're already demanding a studio version of the same.
We can't wait for an official studio collab ourselves!