EXO's ChanYeol is our boy crush of the week! Need a reason to fall head over heel for the it-boy of the globally renown group? Here's all the reasons why.
ChanYeol is loved for an endless list of reasons. His personality, his looks, his musical skills, his adorable smile, his goofy playfulness, his ears, and the list literally goes on and on. No wonder why he's the it-boy of the K-Pop industry with so many other artists and fans following his every move!
Must Read : Photo )) Suho, D.O., Kai, Sehun, Chanyeol on The Cover of L'uomo Vogue
Let us introduce you to your new K-Pop boy crush, ChanYeol!
Boy Crush Monday: ChanYeol of EXO
ChanYeol
(Park ChanYeol)
Who's Our BCM?
ChanYeol was born on November 27, 1992 in Seoul, South Korea. You probably couldn't notice, but ChanYeol grew up in a well provided family who lived in one of the most prestigious areas of Seoul. He attended a private acting institution when he was in high school, but his interest in music began much before. After watching "School of Rock" in elementary school, ChanYeol fell in love with music and took up drums - eventually forming a band in middle school called "Heavy Noise". All throughout middle school and high school, ChanYeol nurtured his dream of becoming a singer through various band activities. In 2008, ChanYeol won second place in SM Entertainment's Smart Model Contest, where he was admitted into the label as a trainee. SM turned his interest towards rapping, where he eventually debuted as the main rapper of EXO in 2012.
Why We Crush
As mentioned, we'd never have guessed that ChanYeol had such a solid background. He's one of the most down-to-Earth K-Pop idols in the industry, even though he is listed as one of the highest earning artists. EXO-Ls are well aware that our boy crush has a passion for humor and playfulness. He loves just as much as he jokes around, and returns the love for his fans as much as they give. With his lovable personality, ChanYeol became one of the most followed K-Pop star on SNS channels. His Instagram account itself has a total following of over 9 million!
https://www.instagram.com/p/BN3-pXVDaRd/?taken-by=real__pcy
Where We've Seen Him
It's not just his fans who love to follow his every move. ChanYeol is close to so many artists of various genres, always trading talks with musicians from all over the world. Most recently, Far East Movement asked ChanYeol to feature on their title track for their 3rd album, "IDENTITY". As the closing rapper of the song, 'Freal Luv', ChanYeol shows off his English rapping skills as he nails the hip hop genre.
Where We'll See Him Next
After showcasing just how well he can adapt to the hip hop genre, ChanYeol comes back to his roots to join EXO for their winter special album! EXO just dropped their holiday album with their new music video for "For Life". The group's famous for their winter songs as it always tops the charts during every holiday season - and this year's release didn't fail to impress. With their end of the year closing promotions and the 'For Life' performances, we'll be able to see ChanYeol and the EXO boys for a good while to come!
See you on our next week's coverage of Kpopmap's BCM!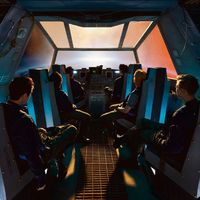 Became a fan of EXO
You can now view more their stories