The mastermind behind B1A4 wasn't handed his talent and fame, JinYoung is one of the most famous K-Pop idols known for sweating blood to achieve what he wants.
JinYoung of B1A4 may seem like he was born with a golden spoon. He's handsome, talented and loved by fans of all ages. But what most people don't know is that JinYoung wasn't born with all of his talent. He had to work himself to the bone to go beyond keeping up with the other idols - but he put in the hours to get it. Get inspired to work for what you want with the crush worthy story of JinYoung.
Must Read : Video )) B1A4's JinYoung MBC 'The King of Singer With a Mask'
Here's why we're crushing hard on JinYoung as our Boy Crush Monday of the week!
Boy Crush Monday: JinYoung of B1A4
JinYoung
(Jung JinYoung)
Who's Our BCM?
JinYoung was born on November 18, 1991 in ChungJoo, South Korea. At a young age, JinYoung moved to Seoul by himself with one simple dream: to become a celebrity. After arriving in Seoul, he began taking on any random job in the entertainment industry. While applying for any audition, he played extras on various shows and dramas. Although he didn't know exactly what kind of celebrity he wanted to be, WM Entertainment took him in to help him fully understand his potential. After years of training, JinYoung finally debuted as the leader and lead vocalist of the group B1A4. 
Why We Crush
JinYoung is famous as an 'effort-idol'. Instead of being born with natural talent, JinYoung had to finely tone up his skills. He began with his vocals and dancing skills, but soon expanded into acting and even producing. Looking at JinYoung, you'd think that he was a natural born talent, because he executes everything with seeming ease. His B1A4 members revealed that their leader was a work-a-holic who put in hours and blood to get where he needs to be. With all the hard work, he was able to become one of the brightest idols, record producers, and actors. Although he's always been well known for composing most of B1A4's songs, JinYoung most recently gained much love for composing 'In the Same Place' for Produce 101, 'Hold Up' for I.O.I and 'Misty Road' for "Moonlight Drawn By Clouds" OST.
Where We've Seen Him
We know him as the leading man of B1A4, but JinYoung's name finally became a household name for his critically acclaimed role as Kim YoonSung in KBS's 2016 drama of the year, "Moonlight Drawn by Clouds". JinYoung played the 2nd male lead who fights Park BoGum for the affection of Kim YooJung. With his soft, caring charisma and perfect acting, JinYoung won the hearts of the nation.
Where We'll See Him Next
JinYoung will be returning back to his musical roots. B1A4 will be making their long awaited comeback to K-Pop on November 28th. The group returns with another song composed by none other than JinYoung. "Good Timing" will be the group's 3rd full length album featuring the title track, 'It's a Lie'. With their return, we'll be wishing for JinYoung to receive awards for acting, singing and composing!
See you on our next week's coverage of Kpopmap's BCM!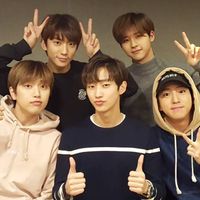 Became a fan of B1A4
You can now view more their stories