Bask in the glory of BTS's golden maknae, JungKook, as we tell you why he's #BoyCrush.
JungKook completely changed the meaning of maknaes in K-Pop when he rose to fame as maknae-on-top. He may be the youngest member of the K-Pop kings, Bangtan Boys, but he certainly has nothing to lose amidst the talented idols. JungKook stood his ground and never let the shadows of his older brothers keep him in the dark.
Must Read : Photo )) Go Behind-the-Scenes With BTS In Their Jacket For "WINGS"
Check out why JungKook of BTS is our pick for this week's Boy Crush Monday!
Boy Crush Monday: JungKook of BTS
JungKook
(Jeon JungKook)
Who's Our BCM?
JungKook was born on September 1, 1997 in Busan, South Korea. Several years before his grand debut as the maknae of BTS, he had entered Big Hit Entertainment as a hopeful trainee, with even a month experience training in LA. He was once criticized by Papa Bang (CEO of Big Hit) for his 'emotionless' performances, but he's now one of the best K-Pop performers in history. With multiple mega hits under his belt and millions of fans around the globe, JungKook is the essence of Boy Crush Monday!
Why We Crush
JungKook may be the youngest member of BTS, but he's the star player of the group. The golden maknae is the main vocalist of the band, which is why you'll often hear his voice dominating most of the group's songs. Whether it be BTS songs or American pop songs, JungKook's got the voice to slay. Just how musically talented is he? Well, he's already dealt his band in producing by contributing the lyrics and composition for various BTS songs! 
Where We've Seen Him
Yeah he's all over the web when you search "BTS", but we think one of his main highlights have to be his god-like athleticism. He first completely stole our hearts during the ISAC Chuseok 2015's 400 m relay race. At the last moment, JungKook burst out in front of the leading team B1A4 to win the race by a landslide. Following through, he's mastered the archery too! It's no wonder why his body is a toned Statue of David.
Where We'll See Him Next
Kookie fangirls unite, because this month's going to be a long one for us! But we don't complain, because we'll be seeing much more of our beloved BCM through his promotions for BTS's new album, "Wings". The K-Pop Kings just dropped their latest album today, and the promotions have officially launched. Look forward to music show broadcasts, variety shows, concerts, fan signings and so much more!
Kookie's fangirl for life!
See you for our next week's coverage of BCM!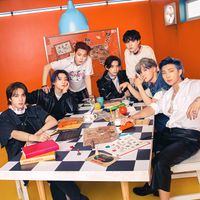 Became a fan of BTS
You can now view more their stories