Don't ever let society's norms and expectations stop you from expressing your dreams and passion. Get inspired to live your life loudly through AKMU's ChanHyuk!
The K-Pop industry is overrun by beautiful idols who can dance better than they can sing. With expectations to be the most handsome idols around, AKMU's ChanHyuk defied the odds and climbed to the top with just his voice, talent and sister. What's more impressive is that he lives his life loudly however he wants.
Must Read : Teaser )) AKMU to Make a Comeback in 2017 on January 3
Find out how AKMU's Lee ChanHyuk can inspire you to become whoever you want to be!
ChanHyuk
(Lee ChanHyuk)
Who's Our BCM?
Lee ChanHyuk was born on September 12, 1996 in South Korea. He and his sister, Lee SuHyun, lived in Mongolia with their missionary parents for almost 2 years before returning to Korea. The duo were always interested in music and often performed for small stages since they were young. The siblings took on the name Akdong Musician (given to them by their mom) and became a part of the Proteurment agency. Under the company, they released an original song titled "Galaxy", which was even used as a soundtrack for the promotions for Samsung Galaxy S4. The pair hit mainstream fame while competing in the second season of "KPop Star", where they eventually went on to grab the 1st place title. Throughout the competition, their self-written songs were released through LOEN Entertainment and became national hits. On May 2013, Akdong Musician signed under YG Entertainment and began stylizing as AKMU.
Why We Crush
ChanHyuk may not be your typical good-looking idol, but he doesn't let it slow him down. He's got the fashion sense that's perfectly fit for a YG artist. With his unique color styling and great sense of pattern techniques, ChanHyuk lives out loud in colors and clothes. His Instagram posts are full of lookbook inspirations that could have G-Dragon gunning for his money - maybe not yet, but possibly soon!
Where We've Seen Him
 Although his Instagram is famous for his unique outfits, we know ChanHyuk best as the 1/2 of AKMU. He's the brains behind the duo's catchy and critically acclaimed songs. 100% of their songs were written by him with the help of his sister. Even Papa YG admitted that he took his hands off of the group's music, because ChanHyuk was more than skilled enough to take the wheel of the group's music and sound. Before, during and after "K Pop Star 2", ChanHyuk continues to produce hit tracks left and right. He once said on an interview that he already has enough songs written to fill 10 albums!
Where We'll See Him Next
ChanHyuk will unfortunately be answering the call of duty as he prepares to enlist in the military. He approached Yang HyunSuk, requesting time off to enlist early in order to get a fresh take of inspiration for their future albums. Thus, YG Entertainment announced that ChanHyuk will take a military hiatus after the group's upcoming promotions for "Puberty Ha". The duo's new album will drop on January 3rd at midnight! During the duo's recently released musical short film, ChanHyuk expresses his frequent complain about promoting with his sister. But did you know? He asked Papa YG to let SuHyun record her solo album while he's away! So we'll be seeing much more of the duo (whether alone or together) for years to come.
We know you love your sister as much as you love AKMU, ChanHyuk!
See you on our next week's coverage of Kpopmap's BCM!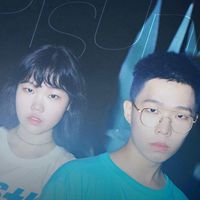 Became a fan of AKMU
You can now view more their stories