The visual member of BtoB, Yook SungJae, may have been born with certain privileges, but he's one of the most honest and humble idol there ever was.
Yook SungJae is a multi-talented K-Pop star who not only excels in singing, but also acting, modeling, and being the cutest boyfriend. Even through his remarkable resume and an impressive family background, the idol never boasts a single word. Take a moment to learn from and be inspired from the one and only Yook SungJae!
Must Read : Idols' Ideal Types 2016 Compilation : BTOB
Let me tell you why this cutie pie is our K-Pop boy crush of the week!
Boy Crush Monday: Yook SungJae of BTOB
SungJae
(Yook SungJae)
Who's Our BCM?
Yook SungJae was bron on May 2, 1995 in YongIn, South Korea. Over the years he studied abroad in various places, such as in England and the Philippines. All of his studying couldn't get in the way of his true passion - the arts. He debuted in 2012 as the maknae, the vocalist, and the visual member of Cube's 2nd boy group - BtoB. But his ambitions didn't end there. Yook SungJae took on acting for the first time in 2014, and within a year, landed his significant role in "Who Are You: School 2015". He ended up winning that year's "Best Couple Award" with his co-star, Kim SoHyun. With trophies from all over the entertainment industry, our boy crush is by far a man of no limits.
Why We Crush
Yook SungJae was born to an impressive family. His father was the CEO of an IT firm, so the idol was born into a lifestyle that most would consider a silver spoon. Even with all of his endless talents and his stellar background, the idol never boasts a word about himself. SungJae is famous for his humility among an industry where vanity is most common. Although he capitvated the audience of "King of Masked Singer" with his amazing vocals, he made sure to give BtoB credits to his older brothers. Yook SungJae's most famous for his self-proclaimed title as a "Sub-Sub-Vocalist", saying that compared to his musically gifted older brothers in BtoB, he's just average.
Where We've Seen Him
Yook SungJae's an outstanding musician, an actor and a celebrity guest, but he's also the cutest boyfriend material! He appeared on "We Got Married" with Red Velvet's Joy. The Bbyu couple stole the hearts of the nations as their two adorable personalities matched so well together. At their last episode, the affection and care between the two idols were clearly apparent as the two hugged and cried as their goodbye. Melodys may have been fuming in rage, but you have to admit that Yook SungJae was the most caring and adorable boyfriend!
Where We'll See Him Next
Yook SungJae is back! BTOB will be making their long awaited return to the K-Pop stage on November 7th, 2016. With their new album, "NEW MEN", the boys will be showcasing a whole new masculine sides to themselves. Their comeback news comes just in time as the final lineups for the end of the year ceremonies and events are just popping up. We can't wait to see how BTOB and Yook SungJae close out the year of 2016 in a big hit! 
See you for our next week's coverage of BCM!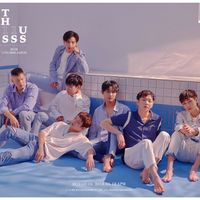 Became a fan of BTOB
You can now view more their stories