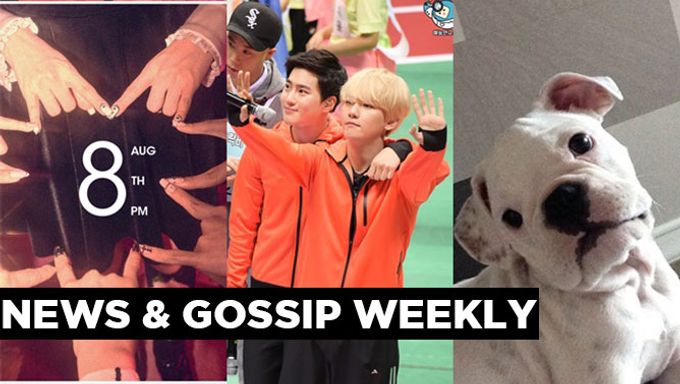 9 things in K-Pop news and gossip that you need to know from this week.
Good morning! Here's everything you need to know in the world of K-Pop this past week. We know your week is busy, so we summarize the hottest issues that happened this week. Take an easy look into all the breaking news information and gossip that stirred up the K-Pop scene.
Must Read : SNS WEEKLY: K-Pop Idol Instagram Posts from 4th Week of July
To begin our breaking K-Pop news and celebrity gossip of this week, we begin with latest news of the latest daesae project idol girl group, I.O.I!
1. I.O.I plans to make comeback in October with all 11 members.
With recent hype of I.O.I's 1st unit debuting on August 9th, I.O.I has garnered more attention with their plans of making a comeback with the full group on October. YMC Entertainment has plans to re-gather the project group once again after all the members have finished promoting with their individual groups. The group plans to comeback with all 11 members in October, leaving netizens to worry about the girls' health. They have been on a non-stop promoting routine, with some girls promoting simultaneously as both I.O.I and a member of their company group.
2. BLACK PINK's debut pushed to August 8th.
Honestly, we weren't surprised when Papa YG decided to delay his new girl group's debut. YG Entertainment is famous for not making deadlines, due to "more preparation to create the most perfect album". YG's newest group, BLACK PINK was no different. The girls were announced to be debuting sometime in mid-July, which got pushed to the end of July, but now YG has finally announced the official debut date for the girls. BLACK PINK will be launching their heavy debut promotion schedules on August 8th. The girls will continually be releasing new songs back to back, and creating their 1st full album at the end of the year.
3. KangIn's DUI case set to be on trial this August.
As many probably know, KangIn has been involved in his 2nd DUI arrest. On May 24th, KangIn had crashed into a streetlamp, while intoxicated and fled the scene. Once he had regained his right mind, he had turned himself in the next day and appeared before the prosecutors on June 15th. Although KangIn was fined 7 million won (~$6,200 USD), it appears that the court ultimately referred the case to a trial. Many speculate that due to this incident not being his first, the court seeks to hold a higher consequence for his actions.
4. SM idols will not be participating in this year's ChuSeok Idol Star Athletic Championships.
Idol Star Athletic Championships (ISAC) is a huge ChuSeok event for idols and fans to gather together to compete in a series of Olympic games. However, fans of SM idol groups will be disappointed to hear that none of the SM Town families will be participating this year. Father SM, Lee SooMan, has decided to take all 350 employees under SM for a vacation trip to Hawaii. Many fans are upset that they will not be able to see their favorite idols compete, while others are thankful for Father SM for giving their idols a long deserved break.
5. NCT 127 + CoCa-Cola = SM STATION
The latest surprise from our SM STATION was the latest song by NCT 127. NCT 127 had partnered up with the global beverage conglomerate, CoCa-Cola, under SM STATION. The rookie idol group was honored to make a remake Korean version of CoCa-Cola's famous theme song, "Taste the Feeling". The boys are seen in the MV drinking Coke, while feeling all the happiness and youthfulness that the beverage brings.
6. I.O.I's sister group, I.B.I prepares debut for mid-August.
A new girl group will be debuting from "Produce 101". I.B.I, which stands for IlBanIn (Ordinary people), is made up of 5 members of "Produce 101", who were just under the cut-off line (12th place and below). The group will consist of Han HyeRi, Yoon ChaeKyung, Kim SoHee, Lee SooHyun and Lee HaeIn. The girls will be releasing 2 track in mid-August and will be competing head to head with I.O.I's unit group. Check out their profile here!
8. TaeYang's family dog, Homie, gets kidnapped from his home.
TaeYang's first ever puppy, Homie has been taken from his home on July 27th. TaeYang's older brother, Dong HyunBae, shared through his Instagram photos of the beloved puppy with captions explaining the situation. His various SNS posts explain that someone took him from their home , while he was placed outside. with explanations of the dear pup. The Dong family is desperately seeking any news of Homie and continually seeks out any help that they can get. We continually pray for Homie's safe return and the damnation for the cold-hearted being who had taken the dear dog from his family.
9. K-Pop idols & groups who made their comeback this week:
Unicorn (7/29) - 1st Debut Digital Single, "Blink Blink"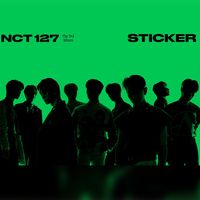 Became a fan of NCT 127
You can now view more their stories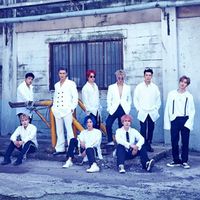 Became a fan of SUPER JUNIOR
You can now view more their stories