K-Pop is no longer a culture that only Koreans enjoy, but it has grown into a global phenomenon. 
Among the many reasons why K-Pop became such a huge deal all over the world is because it was performed by not only Koreans but people from other countries as well.  People from other countries joining K-Pop is quite common these days, and it's even hard to find a group that only consists of Korean members, especially for those who have debuted after 2015. 
Because the foreign members speak fluent Korean and even act like a born Korean sometimes, it confuses us of their nationality. So, today were are going to look at some of the girls from other countries performing lively in the K-pop scene!
BLACKPINK
Lisa
Full Name: Lalisa Manobal
Nationality: Thailand
Position: Main Dancer / Lead Rapper / Sub Vocal
ROSÉ
Full Name: Roseanne Park
Nationality: Korea & New Zealand
Position: Main Vocal & Lead Dancer
TWICE
Mina
Full Name: Mina Shoron Myoi
Nationality:  Japan
Position: Sub Vocal / Main Dancer
Momo
Full Name: Hirai Momo
Nationality: Japan
Position: Sub Vocal / Main Dancer
Sana
Full Name: Minatozaki Sana
Nationality:  Japan
Position: Sub Vocal / Sub Rapper
Tzyuyu
Full Name: Chou Tzuyu
Nationality:  Taiwan
Position: Sub Vocal / Lead Dancer
WJSN
Cheng Xiao
Full Name: Chéng Xiāo
Nationality: China
Position: Sub Vocal / Main Dancer
Xuan Yi
Full Name:  Wú Xuānyí
Nationality: China
Position: Sub Vocal / Lead Dancer
Mei Qi
Full Name: Mèng Měiqí[
Nationality: China
Position: Sub Vocal /  Main Dancer
PRISTIN
KyulKyung
Full Name: Zhōu Jiéqióng
Nationality: China
Position: Vocal
Former I.O.I
Jeon SoMi
Full Name: Ennik Somi Douma
Nationality: Korea & Canada & Netherlands
f(x)
Victoria
Full Name: Sòng Qiàn
Nationality: China
Position: Leader / Main Dancer / Sub Vocal
Amber
Full Name: Amber Josephine Liu
Nationality: Taiwan & U.S 
Position: Main Rapper / Sub Vocal
CLC
Elkie
Full Name: Chong Ting Yan
Nationality: Hong Kong 
Position: Lead Vocal / Lead Dancer
Sorn
Full Name: Chonnasorn Sajakul
Nationality:  Thailand
Position: Sub Vocal
FIESTAR
Cao Lu
Full Name:  Cáo Lù
Nationality:  China
Position: Sub Vocal
Korean Idols with Another Nationality
Tiffany
Full Name: Stephanie Young Hwang
Nationality: Korean & U.S
Position: Main Vocal
Jessica
Full Name: Jessica Jung
Nationality: U.S
Career: Musician & Designer
Krystal of f(x)
Full Name: Chrystal Soo Jung
Nationality: U.S
Position: Lead Vocal
Must Read : 6 Attractive K-Pop Idols Who Came From Thai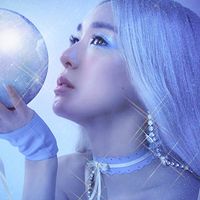 Became a fan of Tiffany Young
You can now view more their stories