On December 5th, BTOB's ChangSub decided to surprise fans by giving out charcoal grilled chestnuts!
He posted an announcement on BTOB official Twitter account, mentioning that he would be located at the Cube Cafe giving out chestnuts till they are all gone.
[🌰] 이창섭의 히든피스 게릴라 이벤트!

연말을 맞이하여 군밤나누미로 변신한 창섭!🎅
큐브카페 앞에서 창섭이가 직접 나눠주는 군밤 받아가세요💙
(게릴라성 이벤트로 준비한 군밤 소진시까지만 나눠드립니다)
군밤도 먹고 수수께끼도 풀어보세요!#이창섭의_히든피스#지금출발해도 #늦지않습니다

— BTOB·비투비 (@OFFICIALBTOB) December 5, 2018
Outside of the cafe, ChangSub had put up a comical banner, causing fans to laugh when they saw it.
Not long later, he was seen by fans giving out chestnuts.
Fans were eager to receive chestnuts from him and they could also tell that he was putting in utmost effort in trying to give out the chestnuts too. ChangSub seemed to be frowning as he was focused on his task and fans could not help but find him adorable.
Here is one of the pictures of the chestnuts which fans had received from him.
Thanks to ChangSub, many fans felt the warmth and love they need during the cold winter.
Do you want to receive chestnuts too?
Read More : Fans Feel Happy To See BTOB's EunKwang & Highlight's DooJoon Doing Well In Army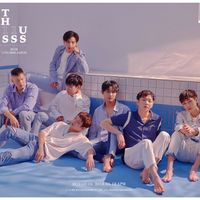 Became a fan of BTOB
You can now view more their stories
Became a fan of ChangSub
You can now view more their stories