BTOB's Peniel was finally able to get a stressful secret off his chest, and fans celebrated the idols' new look with love and support.
After suffering in secret over the past 5 years, Peniel finally opened up about his hair loss on the recent episode of KBS's "Hello". The idol was well known to have donned a hat during his most recent promotions, and no one really thought anything of it - until now.
Must Read : MV )) BTOB – I'll Be Your Man
Peniel confessed that he had been covering his head with hats because of the sudden sharp depreciation in his hair. The idol told the audience, "The hospital said I lost about 70% of my hair. They said it was uncertain whether it will ever grow back... I want to freely confess and take off my hat from now on."
Since 5 years ago, Peniel had been using wigs to cover up his bald spots, but he explained, "You need to attach the wigs to your hair, but after losing 70% of my hair, it was impossible for me to wear wigs." Since then, he shaved his head and turned to hats instead. He explained how it was hard for him to fully explain to others when they'd ask why he never took off his hat. Worried about the specific image that K-Pop idols need to have, his worried fans, his faithful BTOB brothers, and his caring label, Peniel was unable to freely open up.
So for 5 years, Peniel hid his secret under uncomfortable wigs and hats. Holding in his complex created more stress for the idol, which his fellow members believe is why he kept losing more hair. After discussing with his BTOB brothers, Peniel proudly confessed his reasons to shaved head.
The idol's confession was met with applause as he freely took off his hat.
Peniel explained that after accepting his bald spots and shaving his head, parts of his hair have already started growing back. Fans in the crowd cheered that the idol was handsome no matter how much hair he had on his head. The same love and support continued all throughout the web as netizens and global fans also joined in to cheer on their stunning idol.
Peniel and BTOB made their comeback just last Monday with their 9th mini-album, "New Men".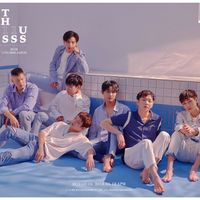 Became a fan of BTOB
You can now view more their stories