Among the many dangerous things you can do in this world, offending or provoking BTS's fandom ARMY is definitely one of them.
Mega music video director Joseph Kahn, who has worked with the biggest names in pop music such as the Backstreet Boys, Lady Gaga, and Taylor Swift, recently shared his thoughts on BTS which rather seems to be quite unpopular among K-Pop fans since it not only throws shade on the global superstars but also pretty much all the other K-Pop idol groups in general.
The music video director has claimed that all K-Pop idols have undergone plastic surgery and wear lipstick. He stated that Asian-Americans want the K-Pop industry to stop feminizing the male idols whereas the Asians define feminized male visuals as male beauty.
They all have plastic surgery. They are all wearing lipstick. This is what Crazy Rich Asians actually look like. pic.twitter.com/u8ruEsYb7R

— Joseph Kahn (@JosephKahn) 2018년 8월 9일
ARMY have naturally denied allegations that BTS have undergone plastic surgery while also saying Kahn's statements were fake news.
While it's true that there are certainly cultural differences between the US and South Korea, feminine male beauty has existed in both cultures. As a fan pointed out, don't all celebrities usually go through a makeup and hair process before appearing live on TV?
Read More : Is Halsey Hinting At A Potential Dating Scenario With BTS RM?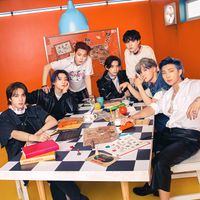 Became a fan of BTS
You can now view more their stories