Yes, it's finally happening. Global superstars BTS will be collaborating with hit-maker DJ producer Zedd.
This is big news for both the K-Pop scene and the US Pop scene as well since two of the biggest names in each nation's mainstream music market will be joining forces.
Being a veteran musician and producer, Zedd is definitely someone that ARMY can entrust to co-produce another chart-dominating smash for BTS. Having humble beginnings as a SoundCloud producer back in 2010, he's one of the few producers who has managed to stay relevant even after when the whole EDM trend started dying out.  More importantly, Zedd's influence in elevating electronic music's presence in pop music is immense. His most recent hit 'The Middle' with Maren Morris has dominated the pop charts once again like his previous singles such as Stay and Get Low. He's worked with Justin Bieber (Beauty and a Beat) Ariana Grande (Break Free), and Lady Gaga (Aura, G.U.Y. , and Donatella) with legendary pop producer Max Martin (Ariana Grande, Justin Bieber, Britney Spears, Backstreet Boys. Justin Timberlake, Katy Perry, Christina Aguilera, Celine Dion, Taylor Swift, The Weeknd, and etc.)
While many artists have expressed their wish to collaborate with BTS, the K-Pop idols themselves have mentioned before in the past that Zedd was the producer that they would like to collaborate with the most, And now, it seems that their wish is finally coming true.
In short, everyone can safely expect something extraordinary and set the bar high this time as it seems almost impossible to end up with something else besides a massive hit when the two of these artists are in the picture.
Read More : 8 Unbeaten Records Set By BTS In Just A Period Of 6 Years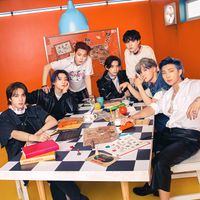 Became a fan of BTS
You can now view more their stories