There are various things that fans can say to prove how amazing their idols are. Meanwhile, to those who aren't so in love with idols may have a hard time believing in what fans. 
What about the factual data? Factual data can certainly persuade the others or the public into believing what fans believe. It's a scientific fact that cannot be denied.  Those factual data could be music records, number of the album sold, number of time that the music was streamed etc. 
If the factual data are the only things that can persuade the judge in the court of "How Great BTS is an Idol Group", boy, fans of BTS are surely going to win the case. COUNTLESS PROOFS can be submitted. 
Now, after BTS has broken so many records and remained 1st in rank for a great amount of time, fans at this point, should be confused as well of their data. So, it's time for the rechecking of BTS' record-breaking moments.
All the questions are to be answered in True or False! Ready?
The music video of 'DNA' was watched by over ten million viewers within EIGHT HOURS.
The music video of 'DNA' was watched by over twenty million viewers within TWENTY-FOUR HOURS.
 The pre-order of the "Love Yourself" album went over ONE MILLION and ONE HUNDRED AND TWENTY Thousand. 
The amount of album bought as soon as it was released went over 35 HUNDRED THOUSAND.
 "Love Yourself" album was ranked the 1st in 73 countries' music chart.
'DNA' was played by over 9 THOUSAND people through Melon Music Streaming site. .
ARE ALL OF THE SENTENCE ABOVE TRUE?    So, what are your answers? 
The correct answer sheet should have 7 trues!!!!
"Love Yourself" album made it to the 1st in rank in 73 countries including U.S, U.K, Australia, France, Finland, Brazil, Poland and so on. The title song 'DNA' took 4th place and has broken their own record that was built by 'Spring Day' by being in 8th in rank, in the main chart of iTunes. Korean music charts are nothing to mention because they were all overruled by their music obviously.
It was also the very first time that a Korean musician has reached over 10000000 views on Youtube. 
If you are looking for a feeling of "Being Proud" in your life, I suggest you become a fan of BTS. You might feel so every single day! 
Must Read : MV )) BTS – DNA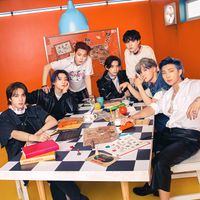 Became a fan of BTS
You can now view more their stories