So BTS recently got to connect with a lot of lucky fans during the iHeartRadio interview.
The group's colleague and friend, Halsey, also dropped in for a surprise as well. And we could literally see and hear how excited the fans who were present right in front of the idol group were, as they had the privilege of seeing them close up front and listen to them talk during the interview.
The interview's host asked a question around the end, asking the fans who they thought among the BTS members was most likely to forget and mess up the choreography.
While the audio in the video isn't very distinct and all you can hear is just screaming left and right, some fans who were present during the interview, and also some who have very good ears have been angry at some of their own, as they claim Jin and RM's names were yelled out the most by fans.
in iheartradio the boys were asked who was most likely to mess up the choreo and people started to shout names out, specially jin's, the boys basically had to shut the crowd up and jungkook proceeded to say "we are perfect", and i believe jin heard it 🙁 he doesnt deserve this

— isa with luv❤️ (@bangtanalwayss) May 22, 2019
Despite everything, i'm glad watching how they protect each other. They really have their own way to comfort the other. And seokjin's little "im not wrong" broke my heart into pieces. You were NEVER wrong seokjinnie #NamjinBestDancers pic.twitter.com/RmjdFeoNUa

— seokjin dance king (@sophiephany) May 22, 2019
I saw what happened & I am appalled. You don't deserve to be called Armys for disrespecting 2 members,

People were screaming like idiots like have some manners & stop screeching like Banshees!

I have no choice but to say this: I hope KARMA hits you hard.#NamjinBestDancers

— Wandering Shadow (@shadow_twts) May 22, 2019
You can check out the full interview below. The part in question begins at approximately 30:00.
Read More : DJ Sofia Valentini Makes Racist Gesture Towards BLACKPINK & BTS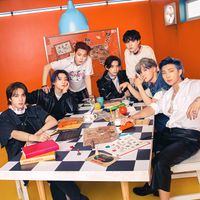 Became a fan of BTS
You can now view more their stories