Just recently on May 3rd, 92 PRO-FM tweeted about BTS's performance during the 2019 BBMA's, and seems to have hinted to fans that the cheering fan girls in the audience section weren't actual BTS fans but actresses hired to play the part of wild fans.
tfw when you get to be part of the #BTS performance #BBMAs #BTSArmy pic.twitter.com/y5cgmAeX0Y

— 92 PRO-FM (@92profm) May 2, 2019
The statement made by 92 PRO-FM can be interpreted in a different way in the sense that the alleged actresses just merely had screen time during the performance, but judging by some of the tweets that fans have been tweeting out in response, it seems that there may be a possibility that it is true.
Naturally, it wouldn't have been pleasant for BTS fans when they heard about the news. With so many ARMY who were present during the performance and all over the world, it just didn't make sense why actresses were hired to act as fans because it's not like BTS is short in number of fans.
Below are some of the things that ARMY have been saying on Twitter.
Shut. The. Fuck. Up. I KNEW THERE WAS SOMETHING OFF ABOUT THAT GIRL IN THE BLUE DRESS!! I'm disgusted. Actual get us REAL ARMYS to come n show REAL love and support to our boys. ARMYS are working themselves to the bone to see our boys n ur PAYING fake fans to see them. Fuck you https://t.co/YTqPNz11mL

— ✨HARRIET IS SEEING BTS 3 TIMES THIS YEAR ALKSKKAKA (@Hdennylaw98) May 3, 2019
tfw you're a paid actor to make bts fans look crazy

— ?????? (@jeoncasa) May 2, 2019
Neither Big Hit Entertainment nor Billboard has addressed the current issue.
What do you think is going on?
Read More : Malaysian Muslim Calls BTS Demonic & Calls The Russian People Infidels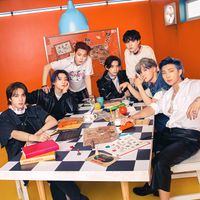 Became a fan of BTS
You can now view more their stories