As BTS fans would know, leader RM isn't exactly someone you'd entrust with expensive porcelain or even your phone for that matter.
Why?
Because he's known affectionately as 'the lord of destruction' by fans for always seeming to accidentally breaking things and causing havoc. In fact, he once even accidentally ripped JungKook's shirt while performing 'Fake Love' on SBS's 'Inkkigayo'.
Just recently, RM held a live streaming session on V App. He told viewers that he was going to step outside of his studio for a brief moment and was seen exiting the room. However, upon closing the door, viewers could hear a loud crashing noise that sounded like many objects tumbling down a hallway.
RM re-entered the studio and assured fans that everything was "under control" and it was just a bunch of skateboards on display that fell.
You can catch the part from 2:20.
Don't ever change RM!
Read More : Monsta X & CL Next In Line For Collab With Steve Aoki After BTS?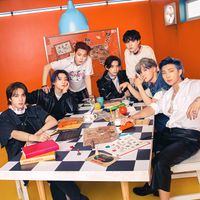 Became a fan of BTS
You can now view more their stories