BTS fans are currently worried about the idol group's creator and producer Bang SiHyuk. 
If you're a BTS fan, you might remember the group's leader RM saying "I truly hope that you succeed with your diet. You promised all of us. Let's live a long and healthy life." during the awards acceptance speech at the 2018 MGA..
Bang SiHyuk was recently seen giving the graduation speech at Seoul National University on February 26th, and looked much bigger than his usual self, hinting that he has not been able to watch his diet as promised.
You can check out the photos below to see how bigger he's become over the past few months.
Below are some of the comments from netizens.
"He's sitting on a ton of money. How do you expect him to go on a diet? Drink and eat and have fun. Korea is heaven as long as you have money."
"This is serious. Think about your health and lose weight."
"I thought I was looking at a Kim JongUn double. Please take care of your health."
"He literally looks about 150 kg. This is out of control. Hope you think about your health and lose weight."
Are you concerned about Bang SiHyuk's recent extreme weight gain?
Read More : BTS Fan Writes 1300 Word Essay To Convince Her Dad To Let Her Go To Concert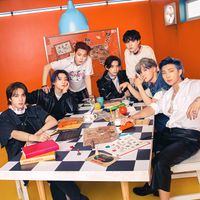 Became a fan of BTS
You can now view more their stories