BTS JiMin's t-shirt which celebrated South Korea's independence from Japan became quite a controversial topic as the t-shirt also had a photo of the bombing of Japan on it. And since it was a tragic historical event in where countless innocent lives were taken, many people were discomforted by the fact that a world-famous K-Pop idol was wearing a t-shirt that seemed to glorify the horror.
Of course, it has been clarified by fans, Big Hit Entertainment, and legendary singer Kim JangHoon that the reason why JiMin wore the t-shirt was to celebrate the independence of his nation and not for the purposes of mocking the victims in any way. But it seems that all are admitting that necessary precautions were not taken and that victims of the bombing could have been offended by it.
Which is why representatives of Big Hit Entertainment and BTS recently personally visited the victims of the bombing to make a formal apology.
The representatives stated
"We regret and sincerely apologize that one of our artist may have caused more pain by wearing a t-shirt that celebrated a nation's independence."
The committee for the victims of the bombing responded by stating
"Because this is a matter regarding freedom of expression as well, it is not our place to express anger about it. However, we would like to continue raising awareness about the tragic bombing in a proper manner through dialogue."
Read More : IZ*ONE vs. CLC, Fans Talk About Song That Was Originally Intended For Latter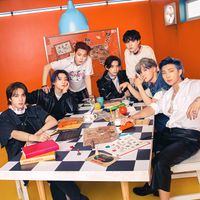 Became a fan of BTS
You can now view more their stories