The leader of BTS, RM, is one of the tallest K-Pop idols within the scene.
He usually towers over many other idols as well. And it's not just his really tall height, but also his physique that makes him look like a giant most of the time.
You can check these moments out below!
Even His Hands Are Huge
The hand size difference between namjoon and jimin omf my hand is smaller than jimin ayye pic.twitter.com/loUcGbvazK

— chichu ? (@thefairymochi) March 7, 2015
J-Hope Looks Like A Kid Next To Him
And So Does Jimin
Are You Sure He's Wearing Over-sized Clothing? They Look Too Small To Be Considered Over-sized
This Is Why It's Always A Hassle To Speak During Awards Ceremonies For BTS
The microphone was too tall for him and Jimin just...
Pls, let's talk about our small Yoonmin, such iconic?
+ tag yourself
I'm Namjoon?✨ pic.twitter.com/5fUoucbF4O

— Yuuri (@YuuriBorahae) January 15, 2019
I Think I'll Just Bend My Knees A Bit To Look Like We're Similar Heights
Needs More Space In Desktop Wallpaper
I love this. (Sorry namjoon you're too tall to fit in my desktop) pic.twitter.com/BvnL6P1TMZ

— 암리나 (@_geniusdaydream) June 16, 2015
Read More : Does This 2PM Song By JYP Sound Too Similar To This Demo? You Decide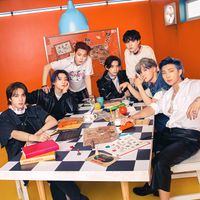 Became a fan of BTS
You can now view more their stories