You might have noticed that almost every part of the world is being affected by COVID-19 and many countries are being placed in locked down or restricting unnecessary travelling.
Many K-Pop idols are also trying their best to stay at home and come up with entertaining contents for their fans.
On Apr. 13, BTSintroduced hashtags such as #BOTD and #BTS_OF_THE_DAY to share some of their daily moments with ARMY on their official Twitter account.
작고 귀여운 다육이 입니다. 여러분은 같이 지내는 반려식물이 있나요?
확실히 생명과 같이 지내면 작던 크던 좋은 변화가 같이 생기는 것 같아요 !
안에서 친구들 보며 힘내봅시다 ! #BOTD #BTS_OF_THE_DAY pic.twitter.com/KRCuPrJi0V

— 방탄소년단 (@BTS_twt) April 13, 2020
ARMY believe that it was leader RM who had first posted the Tweet and since then, he had also received lots of replies with ARMY sharing photos of their potted plants too.
Many ARMY began to wonder if each member will take their turn to post pictures or even share their simple daily moments through the hashtags in other days to come.
Earlier, it looks like member V had also uploaded a picture of him perming his hair, earning laughter from many fans.
아미들 다시 돌아온 파마왔슈
오늘 아미들은 어떤 머리했슈~? #BOTD #BTS_OF_THE_DAY pic.twitter.com/PynZtsyBo6

— 방탄소년단 (@BTS_twt) April 14, 2020
V had also asked how did ARMY style their hair today on the Tweet.
The hashtags trended in no time, showing off once again their immense popularity. Some also believe that through the hashtags, BTS is finding ways to interact and keep those who are quarantined entertained.
BTS will be streaming their previous concerts "Bang Bang Con" on their official YouTube channel on Apr. 18 and 19.
Did you also participate in the hashtag?
Read More : Check Out The New BTS 'Map Of The Soul' Light Stick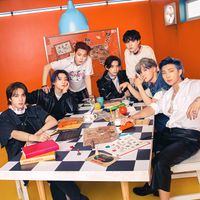 Became a fan of BTS
You can now view more their stories