On Apr. 17, BTS held their global press conference for their newly released mini album "MAP OF THE SOUL : PERSONA".
As this was a new style of press conference, the boys received questions from media outlets prior to the actual event. A keyword cloud was projected on the screen and BTS chose some of the keywords which they were interested in.
Out of the numerous amount of keywords, leader RM first chose the question regarding their mini album.
In regards to the biggest inspirations for "MAP OF THE SOUL : PERSONA", RM shared that with the end of "Love Yourself" series, they thought of going with the concept of discovering themselves such as their roots and shadows. With that being said, they became curious about their fans and what made them happy.
The happiness and joy for their fans might be the minute and small details of their everyday life and thus, became their main inspiration behind this mini album.
Continuing, Suga chose to answer the questions regarding their title track 'Boy With Luv' as well as their featured artist, Halsey.
First, he began by referring to their song 'Boy In Luv' released in 2014. It talks about the young love many experience when they are younger and in their teenage days.
Compared to 'Boy In Luv', 'Boy With Luv' mentions finding happiness and love in small things and actions which were inspired by their fans. However, their latest title track 'Boy With Luv' shares a connection with the previous song.
Another question regarding their featured artist, Halsey was also brought forward.
Suga shared that they met Halsey for the first time 2 years ago in Billboard Music Awards 2017 (BBMAs). They felt that Halsey's values, music perspectives, passion and many were a fit with them and hence, decided to send her the invitation for a collaboration. She gladly accepted the collaboration and the magic happened with 'Boy With Luv'!
Of course, J-Hope also did not miss out the chance to talk about the work with Ed Sheeran for the song 'Make It Right'. He revealed that it was actually Ed Sheeran who had first contacted them and they were happy to accept the offer. The pop singer wrote the song and it was also noted that RM had written the lyrics for 'Make It Right'.
Next, JiMin revealed that the opportunity for them to perform 'Boy With Luv' comeback stage on "Saturday Night Live" (SNL) also happened to come to them.
Back then, they performed the first stages of 'DNA' on Mnet "BTS Comeback Show", 'FAKE LOVE' on BBMAs 2018 and 'IDOL' on the concerts in Seoul for their world tour "LOVE YOURSELF".
They believed that the first stage of their comeback was very important and after discussion with the company and members, they had decided to go with the chance given to them at "SNL".
In regards to their Stadium tour happening soon, V shared that he was very grateful and excited for the Stadium tour. He thanked the fans for making BTS's dreams come true such as performing in Wembley Stadium. He promised that BTS will be practicing very hard for to repay their fans and asked them to keep a look out.
Another interesting question asked, was about the book 'Jung's Map of the Soul'. It is not the first time BTS used references from books and this time, they had referred to 'Jung's Map Of the Soul'.
JungKook shared that fans have been reading and studying thanks to them. He enjoyed seeing fans analyzing and coming up with theories and with that, he was extremely grateful for their existence.
He also mentioned that many fans out there in different parts of the world have gained strength thanks to their music. As such, he also felt the growing responsibilities with the growing power. It had transformed into a relationship whereby no one can break the bond between BTS and their fans, ARMY.
Lastly while talking about their achievements and goals, Jin shared that he believed that it was possible only because of the paths their seniors had paved before them. It would also be a lie to say that they are not burdened but despite that, they are able to find comfort and strength through their fans.
Finally at the closing end, Suga also mentioned that he wishes for a successful Stadium tour and cautiously talked about the two nominations BTS had received on BBMAs 2019. Even though he shared that it would be nice to receive both of them, he hoped that BTS could get 1 of them.
BTS will be promoting their title track 'Boy With Luv' in the upcoming music shows.
Read More : Real Estate Agent In NYC Gets Fired For Making Racist Comment About BTS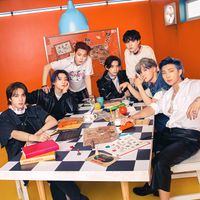 Became a fan of BTS
You can now view more their stories