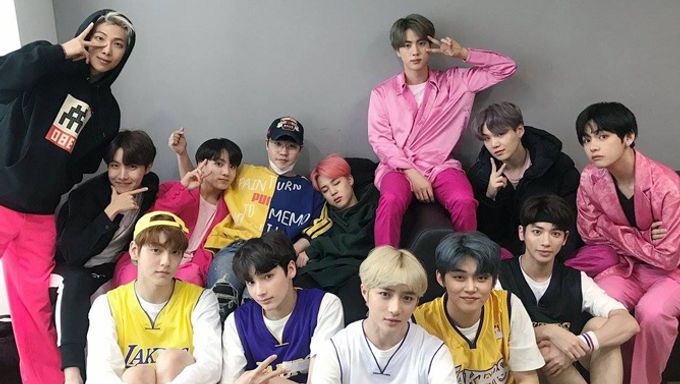 On Apr. 27, singer Lee Hyun uploaded a picture of him together with the rest of Big Hit Entertainment's artists, BTS and TXT.
예전의 아쉬움도 달랠 겸 오랜만에 상암mbc 응원차 들렀습니다~이때가 아니면 또 언제 같이 있을까 싶어서~! 올드보이를 환영해 준 동생들 고맙소~!!!#BTS #TOMORROW_X_TOGETHER #이현 #bighit pic.twitter.com/0d4MvLng9Y

— 큐티혀니 (@thehyun11) April 27, 2019
He said that he had dropped by MBC and thanked the boys for welcoming him with such open arms! In commemoration, the singer had taken a photo with the rest of them.
However, fans seemed to notice that BTS's JiMin actually had his eyes closed and appeared to be sleeping! They were unsure if he was really sleeping until JiMin replied to the tweet by Lee Hyun.
형 저는 왜 기억에 없는 사진일까요
얘들아 너희는 언제 사진찍고 간거야#JIMIN

— 방탄소년단 (@BTS_twt) April 27, 2019
JiMin said that he had no memories of taking the picture and asked when they had actually taken it!
With that, fans could confirm that JiMin was really sleeping when they photo was taken! They talked about how adorable JiMin was and wondered if  he was very tired from the busy schedules.
BTS will be performing 'Boy With Luv' together with Halsey on Billboard Music Awards 2019 (BBMAs) on May 1.
Read More : Netizens Are Calling BTS's V 'Peek-A-Boo V' For This Adorable Reason