BTS fans had quite a lot of questions involving the BTS universe as they have been keeping up with the storyline behind all the MV releases ever since the very beginning.
The idol group's new webtoon series 'Save Me' in collaboration with Naver, which takes place after all the members go about their separate ways, just might be the answer to all the questions that fans had.
Below are some that have already been answered.
Is Jin Really Playing The Role Of A Time Traveler?
Since the webtoon series revolves around the storyline of Jin traveling around time, it seems that Big Hit has confirmed the fan theory.
Who Was V Calling When He Was All Bloodied Up?
You may remember V, who was covered in blood at the beginning of 'on stage: prologue', calling someone, except no one ever answered his call. So who was he calling? It seems that he was most likely calling BTS's leader RM. The only problem is, RM probably never answered the call because he was in jail.
JungKook Kills Himself?
While most fans believed that he was accidentally hit by Jin while driving, they now believe that JungKook committed suicide by throwing himself off a building, landing on the car that was being drove by Jin.
V Killed His Father
Many fans were dying to know who V killed. His girl friend's abusive boyfriend? A friend? Relative? None of the above. It turned out that V killed his father as confirmed by the webtoon series.
Read More : Actor Lee WonGeun Talks About How BTS Jin Was Like In College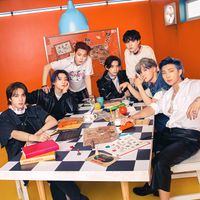 Became a fan of BTS
You can now view more their stories