It was announced that BTS won the 'Top Social Artist Award' at the prestigious Billboard Music Awards (BBMAs) for the second time in a row with spectacular premiere performance of "Fake Love" which took the audience by storm.
Kelly Clarkson, who was in charged of introducing the performance called the 7 boys as "the biggest boy band in the world". This is one of the best compliments which BTS has received by far. In addition to that, they were the second last to perform out of the total 16 acts.
BTS's powerful and dynamic performance had taken the crowd by storm and even the artists who were present on the spot were surprised by the loud cheering of the fans.
After a successful performance of "Fake Love", BTS mentioned through a representative of Big Hit Entertainment that "We were 7 plain, simple boys back in 2013. Even though we do have dreams, we have never expected ourselves to come so far". They also said that "It was a honor to receive the award twice in a row and it is dedicated to all the ARMY out there in the world".
Continuing, "It was very meaningful to be able to comeback in front of our fans all over the world through a world-class stage". With that, they also concluded that they were able to carry out the performance successfully also thanks to the audience who were singing along with them.
BBMAs 2018 took into account the number of digital and physical sales, streaming, radio broadcast, performance, social activities and so on from April 8th 2017 to March 31st 2018. Through such methods, nominees of the music awards are selected. The 'Top Social Artist Award' which BTS had received was based on a competitive voting from fans for a week from May 15th to the May 21st (KST).
We would like to congratulate the boys once again for winning the BBMAs 2018 'Top Social Artist Award'!
Read More : Taylor Swift Reveals That She Too Is A BTS Fan Girl On Instagram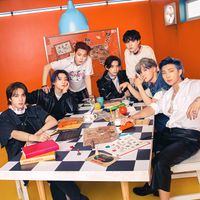 Became a fan of BTS
You can now view more their stories