BTS World Tour "LOVE YOURSELF: SPEAK YOURSELF": Cities And Ticket Details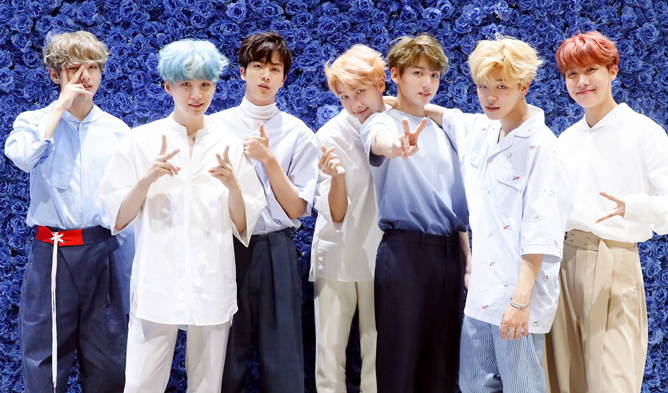 Following a record-breaking 2018, BTS is further cementing their position as the biggest pop act on the planet as they announce their BTS WORLD TOUR 'LOVE YOURSELF: SPEAK YOURSELF', with a line-up of eight stadiums spanning North America, South America, Europe and Asia.
The global boy band recently made history as the first Korean act to present at the GRAMMY Awards. In 2018, BTS scored two #1 albums on the Billboard 200, embarked on a sold out world tour, landed the cover of TIME, and had the highest-grossing cinema event with "Burn the Stage: the Movie". While millions across the world celebrate BTS as a culture, the band continues to break ground, connecting with the people through their music.
BTS World Tour "LOVE YOURSELF:SPEAK YOURSELF"
May 4-5, Saturday & Sunday- Los Angeles (Rose Bowl Stadium)
May 11-12, Saturday & Sunday- Chicago (Soldier Field)
May 18-19, Saturday & Sunday- New Jersey (Metlife Stadium)
May 25, Saturday- Sao Paulo (Allianz Parque)
June 1-2, Saturday & Sunday- London (Wembley Stadium)
June 7-8, Friday & Saturday- Paris (Stade De France)
July 6-7, Saturday-Sunday- Osaka (Yanmar Stadium Nagai)
July 13-14, Saturday-Sunday- Shizuoka (Shizuoka Stadium Ecopa)
-Ticket Details-
Los Angeles: Link (Sales open on Mar. 1, 10 am local time)
Chicago: Link (Sales open on Mar. 1, 10 am local time)
New Jersey: Link (Sales open on Mar. 1, 10 am local time)
Sao Paulo: Link (Sales open on Mar. 11, 10 am local time)
London: Link (Sales open on Mar. 1, 8:30 am local time)
Paris: Link (Sales open on Mar. 1, 9 am local time)
Osaka & Shizuoka: Fan lottery on Mar. 22 to 31
London (extra date): Link (Sales open on Mar. 8, 8:30 am local time)
Los Angeles (extra date): Link (Sales open on Mar.8, 4 pm local time)
Chicago (extra date): Link (Sales open on Mar.8, 4 pm local time)
Newark (extra date): Link (Sales open on Mar.8, 4 pm local time)
Paris (extra date): Link (Sales open on Mar.8, 9 am local time)
Read More : BTS World Tour "LOVE YOURSELF": Cities And Ticket Details