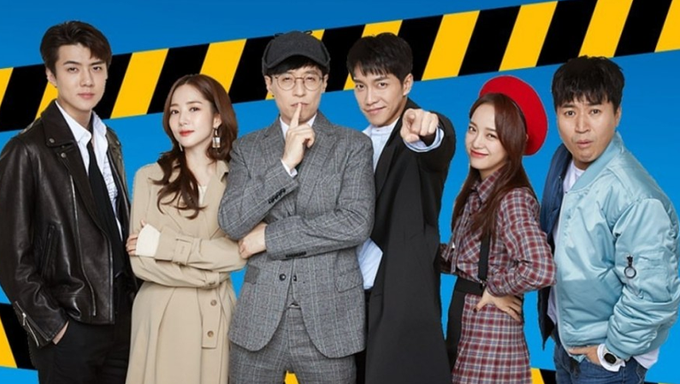 "Busted" is back with its season 2!
Many have been waiting for this new season with new cast Lee SeungGi. This season two also promises to be funny and with numerous guests.
The show's scenario revolves around the cast moving around a given random location and using teamwork to solve mysteries and tasks. It is directed by Jo HyoJin, the director of "Running Man", "X-Man", and "Family Outing".
Here are more information.
Busted (2019)
Information
Title: Busted2/The Culprit is You2/Beomineun baro neo2/범인은 바로 너! 시즌2
Genre: Variety TV Program
Director: Jo HyoJin, Jang HyeokJae, Kim JuHyeong
Writer: –
Network: Netflix
Runtime: From Nov. 8
Air Time: –
Language: Korean
Summary 
A variety show where detectives are solving mysteries.
Cast
Yoo JaeSuk
EXO's SeHun
Lee SeungGi
Kim JongMin
Gugudan's SeJeong
Interesting Facts
Here is one of the teasers.
Here are the official posters.
To join in the fun, follow Busted Netflix's social accounts. They have games and hints along with the show.
https://www.instagram.com/p/B3qclt_o4ny/
마지막 추리 시간이라 ☠️난이도를 초콤 높여봄 👻 힌트: 우리 탐정들 몇년생?#범바너_추리방 #범인은바로이안에있어 #범바너 #범인은바로너 #넷플릭스

This is the final puzzle we have for you guys, let's kick it up a notch ☠️ Hint: Their birth years😉#Busted #BustedNetflix #Netflix pic.twitter.com/aDx7do1DUW

— BustedNetflix (@Busted_Netflix) October 22, 2019
Read More : "Busted" (2018 TV Show): Cast & Summary