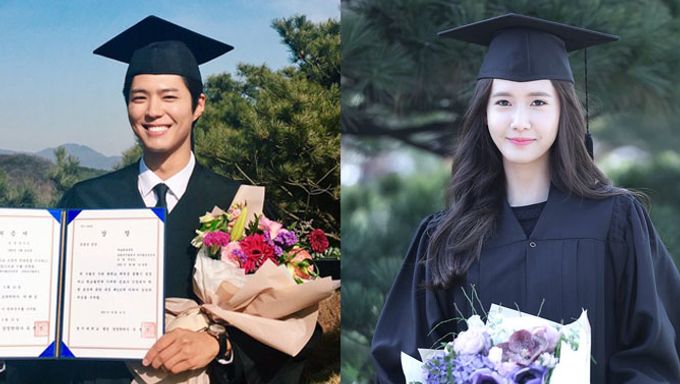 Sometimes one of the best fantasies fans could have is the chance to be able to attend the same school as their idols. In some cases, it would be nice to just think about the probability of becoming a campus couple. Unfortunately, some of the top stars who we have known, have already graduated from university.
Let's take a look at who they are.
#1 Park BoGum
졸업을 축하해주신 모든 분들, 감사합니다! 2018.02.21 pic.twitter.com/xNU9y9b0pX

— 박보검 (@BOGUMMY) February 21, 2018
https://www.instagram.com/p/BfmwxxYll7p/
Fresh graduate from MyongJi University, Park BoGum has recently completed his undergraduate degree as a Musical Theater major. In addition to his good looks and heart, he was known for his diligence and attendance for his classes! His Professors and peers had commented that despite him being a celebrity, he treated everyone with respect and responded well to questions too. No wonder fans would want to attend the same class as him!
#2 BTS's Jin
모든걸 함께해서 너무 행복해요. 고마워요 아미 pic.twitter.com/s3QP8SC2AU

— 방탄소년단 (@BTS_twt) February 22, 2017
BTS's oldest member but youngest in the heart, Jin, has completed his Bachelor degree as a major in acting in Konkuk University in 2017. With his good looks and caring image, fans can't help but wonder what it would be like to be able to attend the same school as him. He was also praised by his Professors for being a responsible student such as informing them about his absence in advance and finding out about what he was missing in class.
#3 Lee SungKyung
https://www.instagram.com/p/BCFEHTfMfaH/
https://www.instagram.com/p/BCFESNssfaU/
One of the rising actresses, Lee SungKyung, has captured our hearts with her outstanding acting stills and 4D personality. As a undergraduate from DongDuk Women's University majoring in Performance Arts and Modelling, she is definitely one of the candidates fans would want to be able to attend school with. Imagine her walking down the corridors for class and greeting you with her angelic smile!
#4 INFINITE's L
Although it has been awhile since INFINITE'S L had graduated from DaeKyung University as a Practical Music major, we still want to rewind time and attend the same class as him. Known for his cold and mysterious personality, fans would want to be THE one who could break down those ice barriers and warm his heart. Together with his good looks, L was most probably a heartthrob back in his university days.
#5 Girls' Generation's YoonA
Who could forget the queen of female idol K-Pop group? SNSD's YoonA graduated from DongGuk University as a Theater Studies Major about three years ago and fans love how pretty she was on the day of her graduation. Despite that being said, they could not help but also wonder how it would be like if YoonA were still in school. She would most probably be voted as the school's campus beauty, am I right?
#6 EXO's XiuMin
EXO's XiuMin not only has his Bachelor's degree from Hoseo University but also his Master's degree from Catholic KwanDong University! Talk about his ability to balance his academics together with his busy schedule as an EXO member. He was also praised by his Professor for his diligence and outstanding performance. It was also rumored among fans that XiuMin is currently pursing his doctorate degree back in Hoseo University and the information has also been confirmed by his peers. Although there is no official announcement from S.M Entertainment, fans could not help but feel amazed by his work-life balance.
Read More : Idols Say Goodbye to High School At SOPA Graduation Today