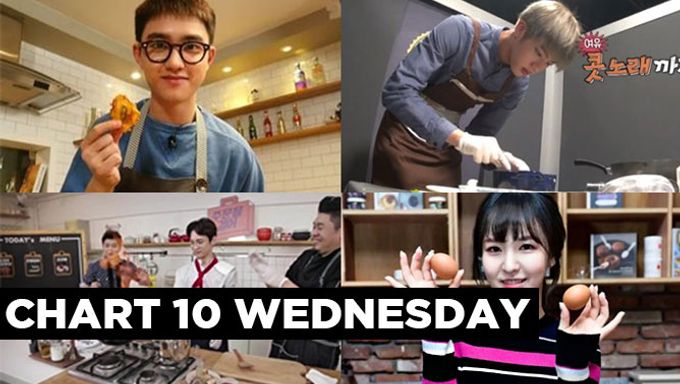 They can sing, they can dance, and they can act. You mean to tell me they're also good at cooking?!
In this cut throat industry, it's difficult making it to the top with just singing and dancing. You need other talented traits, and cooking is the latest hobby trend that fans are going nuts over! It's probably because just the thought of our beautiful biases cooking a delicious dish for us is basically a dream come true.
Must Read : Photo )) 5 Groups for Behind Scenes of MBC's "Idol Chef King"
Here's the top 10 K-Pop idols that we think are the best cooks around.
10th - GOT7's JB
JB is our 10th best idol chef. Although he may not look like it, he cooked for his best friend B.A.P's YoungJae on "Bromance". He made a marinated pork dish that's famous in Korea and YoungJae loved it! To farther prove his cooking abilities, JB also made a nice stew to enjoy with the meat.
9th - SHINee's Key
He's a talented artist, an inspirational fashionista, and now a perfect chef? Key's cooking skills were finally acknowledged through the show "Made to Order". He showcased a delicious bento box, as well as stunning cooking techniques!
8th - BTS's Jin
He's known to have a very healthy appetite, so it just made sense that he also knows how to cook well! Known as the 'BTS Mom' among fans, he's even cooked for his members multiple times. Jin's cooking skills were highlighted when he appeared on the 2016 Chuseok special, "Idol Chef King"!
7th - EXO's D.O.
D.O.'s talented in singing, dancing and acting - but now we find out he's great a cooking too? D.O's cooking skills are guarantee approved by his fellow EXO members. They say he makes a killer spaghetti and fried rice. He's even went on V APP to showcase his cooking and EXO-Ls absolutely fell in love with him carefully flipping over the Korean pancakes. He's getting more and more into cooking as he continues to purchase unique cooking supplies like Octopus Ball Cookers.
6th - Red Velvet's Wendy
Wendy is a known baker. She loves to bake goodies for her friends, like when she baked a whole walnut pie for her idol BoA's concert! She's known to frequently make little eateries for her hard working staff members and managers too. Need more proof? Just search for Red Velvet's cooking videos and you'll see and endless amount of cooking by Wendy.
5th - BTOB's Yook SungJae
Yook SungJae is also a multi-talented idol. He sings, dances, acts and cooks! Although he looks like the son of a wealthy family who never touched a pan in his life, Yook SungJae proved his cooking skills on "Idol Chef King" by placing 3rd!
4th - NCT's JaeHyun
JaeHyun is also an idol that you'd never expect to be great at cooking. JaeHyun however is the best cook out of the NCT members. While the other members coward at the thought of preparing octopuses, JaeHyun took the reigns and showed outstanding handy work. With his special skill set, there's nothing that he can't create into a delicious dish. He's also appeared on "Idol Chef King"!
3rd - SEVENTEEN's MinGyu
MinGyu's earned the title of "MingJooBoo", which means Ming Housewife. His cooking skills shined brightly during "SEVENTEEN's One Fine Day". He's cooked fresh chicken, cut prepared and grilled mackerels, made jjajang rice, and so much more. We can't help but wonder... what's something he can't make?
2nd - Super Junior's Henry
Who knew Henry was so good at cooking? He's actually been an apprentice under a famous Korean chef. He took on the apprenticeship for a role in a movie, but he fell in love with the skill and mastered the art of wok. He most recently showcased his skills on "I Live Alone" for Lunar New Years.
1st - miss A's Fei
This was a no brainer! miss A's Fei is the most famous idol-chef in the industry. She's won first place at MasterChef Korea: Celebrity, appeared on an endless amount of cooking programs, and is taste approved by some of the top chefs of Korea!