Which K-Pop group will outlast their Shinhwa seniors and become the longest running legends?
Shinhwa is a legendary K-Pop idol group that debuted way back when in 1998. The six member group was formed under SM Entertainment, and have literally been together through thick and thin. The group outlasted the famous 7 year curse, became the first idol group to stay together all throughout each members' military services, and are still going strong with impressive record sales and fandom members.
But records are meant to be broken. We took a look into which current K-Pop idol group has the potential to outlast Shinhwa's continuing record of years active. With the super seniors closing in on their 20th anniversary, it'll take a lot of teamwork and love to beat the legends at their own game.
Must Read : K-Pop's 7-Year Curse: BEAST-HyunSeung & Other Victims
But one of these groups may have just what it takes!
10. ASTRO
The one and only rookie group, ASTRO, makes it onto our chart thanks to their large similarity to Shinhwa. They have the same amount of members, the same bright energy, the same ridiculously witty members and undeniable brother-like chemistry and love. The boys love to take care of their fans, and within a year since debut, ASTRO has collected an impressive amount of global fans (even though they're not from a major label)! It may take a few decades, but we think ASTRO has a budding possibility to become the next Shinhwa.
9. Girls' Generation
This legendary girl group lands low on our list for a few reasons that are not entirely their fault. The girls are one of the longest running girl groups to date, but with each member continuing to branch out into solo promotions and different careers, it's hard to firmly say that they will be able to outlast Shinhwa. With other iconic girl groups disbanding one by one throughout 2016 and 2017, Girls' Generation continues to be speculated about their long breaks between albums. The girls are nearing their 10th anniversary, so we're hoping the wedding rumors, disbandment rumors and gossip rumors keep quiet for another decade and more!
8. EXO
EXO would definitely be higher on the list had it not been for the shaky start with member lineups. Their fandom is incredible and they've got the talent to run long in the industry, but rumors continue to circulate about more potential members leaving the group in order to pursue different careers. Let's keep our fingers crossed EXO-Ls!
7. BIGBANG
BIGBANG is honestly a little risky to be on this chart, but we're going with positive thinking! BIGBANG just began their process of a carefully timed military enlistment. T.O.P will be the first to enter, followed by the other 4 members. The army has a tendency to break up groups often due to the long hiatus, but the ridiculous amount of V.I.Ps all over the world gives us enough hope to see the group together for a long time to come. Let's just hope SeungRi doesn't decide to fold his idol career for one of his many business ventures!
6. APink
Out of all the girl groups, we think APink is the most similar to the Shinhwa legends. APink is on their 6th year run, but we don't think the 7 year curse has anything on the girls. The girls are mirror images of Shinhwa in terms of teamwork, sisterly bond, multi-talented lineup and beauty. With this perfect formula, don't you think that they may just become the longest running group?
5. Super Junior
If you think about it, Super Junior is just a larger version of Shinhwa with more members who stayed with SM Entertainment. They're hilariously funny with the capability of hosting their own shows, talented in all aspects of the industry, and have already beaten the 7 year curse without a scratch. More than half of the group already fulfilled their military duties, so we just need to hold out for the troublemakers to stay good for a few decades longer.
4. INFINITE
INFINITE comes in at top tier for their brotherly love and stunning teamwork. Since the beginning the boys rose to stardom thanks to their perfect synchronization. Whether it's dancing, singing, performing, or whatever; the boys have got each others' backs. This year marks the group's 7th anniversary, and the INSPIRITs are sleeping peacefully at night without a worry - 7 year curse's got nothing on them! Besides, INFINITE's also one of the few groups that can lead a truly entertaining show just by themselves. "INFINITE Show" may just be the next "Shinhwa Show"!
3. SHINee
SHINee will undeniably be a long running group. They are one of the rare groups to beat out the 7 year curse with all members still together since debut! They're multi-talented just like Shinhwa and come from the same origin - SM Town. The only thing is that the boys have cited their secret to staying together is to think of each other as a business partner. It sounds a little risky, but we buy it!
2. BTS
BTS comes in second for their undeniable team chemistry and love for their fans. Shinhwa's teamwork is a once in a lifetime kind of chemistry, where all of the members are literally brothers who may fight and argue, but resolve all issues with love and a hug. BTS's inner love between the members and their love for their fans mirror exactly what we saw from Shinhwa. Add in the fact that the group is just as funny as Shinhwa - and you've definitely got a potential longest running idol group! I mean, they have the largest fandom in K-Pop right now, so we think the A.R.M.Ys will keep their career strong for a couple more decades.
1. BEAST
BEAST tops our list of potential Shinhwa Juniors, because of their undeniable resemblance in fate. Shinhwa debuted under SM Entertainment, but departed from the label as a group. BEAST is undergoing the same transition as the five members decided to leave Cube Entertainment as a group after their contract expired. Shinhwa set up their own company called Shinhwa Company, and BEAST founded Around Us Entertainment. The two groups have one of the largest fandoms in the industry, and both groups contain talented musicians, dancers, actors and variety personalities!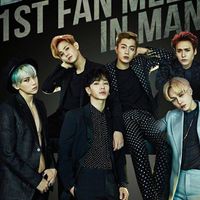 Became a fan of BEAST
You can now view more their stories