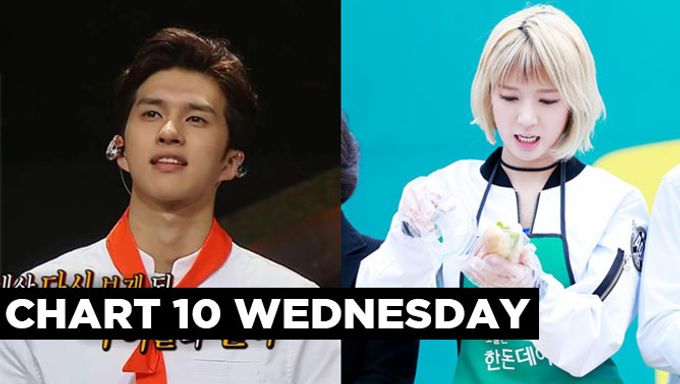 These busy bee Korean celebrities worked their butts off at part time jobs before they were given a chance to debut.
The road to stardom is hardly a road full of flowers. You must go through extensive training for over years, while living off of little to no pay. In order to pursue their dreams, many Korean celebrities started off at the bottom of the food chain - part time workers (aka. alba).
Must Read : 10 Things: K-Pop Idols' Pre-Debut Audition Tapes
You probably never knew these 10 stars went through so much before they made their first step towards the stardom status.
10th - Ken of VIXX
Before his debut, Ken worked at a hamburger join for over 9 months. He was so famous that girls came to eat at the restaurant just to see him. They say that on his last day, the restaurant was flooded with his fans... this was all before his debut!
9th - Jung WooSung
Can you even imagine this Adonis statue working part time that doesn't involve the luxury life? Jung WooSung worked at a cafe before his debut, and just his presence brought in a ton of female customers.
8th - YuJeong of Brave Girls
YuJeong worked at a cafe before her debut. Four years ago, she even met the original members of Brave Girls while working at the cafe. Who knew that she would debut as a Brave Girls herself?
7th - ChoA of AOA
ChoA was a busy bee not just as the leader of AOA, but even before she knew of her AOA fate. She recently revealed that she raised over 5 million won a month while working as a part time employee at a tele-marketing company.
6th - WooHyun of INFINITE
He may look like he was born with a silver spoon, but WooHyun worked hard for his chance to debut. He even applied for a motorcycle license so that he can work part time as a delivery boy for a Chinese restaurant. He also worked as a model for a small shopping mall.
5th - HyeRin of EXID
HyeRin even worked part-time after her debut. When she first debuted with EXID, the group was doing terribly. In order to help her members, she secretly started working part time at an ice cream store. When SolJi heard of this secret years later, she cried for her younger member's devotion to the team.
4th - SECRET's HyoSung
HyoSung worked at a coffee shop, ice cream shop, and a jjajangmyun restaurant. She said she was popular among the customers while working at a cafe.
3rd - Kim TaeRi
Before she made her name known through the movie "Handmaiden", Kim TaeRi did multiple part time jobs, such as at a fast food joint, cafe, convenience store and more. She used to sell soy milk at markets, when a cafe owner asked her to come work as a barista thanks to her good looks. She also modeled for a Samsung ad for Kim Yuna.
2nd - Ryu JunYeol
The trendy star started off working as a delivery boy, catering server, convenience store clerk, waiter at a Korean BBQ place, package deliverer and more. His most memorable job was working at a goods store at a SHINee concert!
1st - SoJin of Girl's Day
SoJin tops our list mainly because she's the iconic part-time experienced idol that comes to mind first. In order to financially support her dream to become a singer, she would practice during the day and work two part times at night. She worked everywhere from bars to tele-marketing companies. She says the most difficult job was putting stickers on socks. She worked so hard that she even fainted from the lack of nutrition and rest.