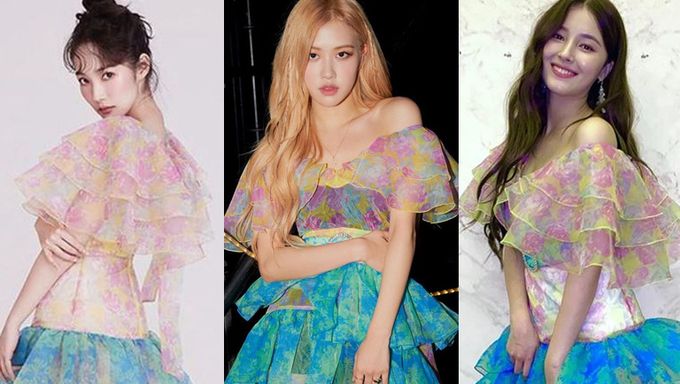 It is common to see celebrities being dressed in the same outfit but the interesting thing is to notice how they pull off the outfit given to them. Sometimes, one celebrity may give off a certain vibe but if the same outfit was given to another person, the image might be different too.
Recently, it has gotten the attention of netizens that there are 3 Korean celebrities who were seen wearing the same piece of dress.
First of all, it is BLACKPINK's Rose!
She was seen wearing this gorgeous dress during BLACKPINK Fukuoka concert in February.
Next, MOMOLAND's Nancy was also seen wearing the same dress!
She had completed the look by putting on a pair of white heels as well as gorgeous shimmery earrings.
Finally, actress Park MinYoung was also seen wearing the dress in the photoshoot for magazine, High Cut.
Compared to the two other idols, she had her hair up and was posing in different angles, showing off her beauty.
The dress that all 3 of them were wearing is by the brand "Lang N Lu" and you can check out their official website here.
It is being featured in their "2020 SS Collection Showpiece". Unfortunately, "Lang N Lu" did not provide the price of the dress as it has to be custom made.
Since the piece of dress has to be tailored to the person, it can be expected to be rather pricey.
Do you like the dress which they had worn? Who do you think look the best with it?
Read More : Deeper Look: Chae SooBin's Lovely Earrings On "A Piece Of Your Mind" Poster