If you owned a restaurant and BTS member V happened to drop by to eat, you'd probably pamper him quite well.
Unfortunately, chef Hooni Kim was unable to do so as he recently appeared on an episode of MBC's 'Video Star'. Hooni Kim is the owner and chef of a Korean restaurant in New York City, where several famous celebrities have frequented.
Among them are actresses Natalie Portman and Drew Barrymore.
It turns out that Natalie Portman is actually a regular at his restaurant. Despite her status as a world-famous celebrity, even she had to wait for twenty minutes before being seated. Hooni Kim also prepared tofu dishes that weren't on the menu because she is vegetarian.
He also revealed that Drew Barrymore actually seems to like soju more than the food.
So it turns out that V and his manager dropped by the restaurant one day. The two of them ordered nine dishes all for themselves as well. The chef however didn't realize V was in his restaurant until one of his foreign employee told him about it until much later, which was why he was unable to give V and his manager special service.
Hooni Kim stated:
"I feel apologetic for my mistake. We usually give special service if customers order nine or more dishes. If you're around again next time, I'll be sure not to forget and give lots of service."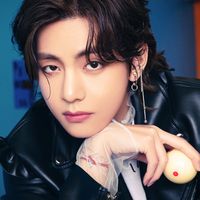 Became a fan of V
You can now view more their stories