A famous Chinese producer recently gave his insight about how he views the K-Pop market.
While fans may are busy being fans over their idols, industry insiders seem to be making careful observations about the market and where it is currently headed.
Billy Koh, who recently attended the 2018 Seoul International Music Fair, also stated that BTS isn't a household name yet in China, as there are a significant amount of people who have never heard of the global K-Pop superstars. He explained that there is a lot of politics involved that prevent even the record-setting idol group from reaching the mass in China. In fact, there have been many instances in the past where China banned K-Pop, preventing exposure. And such situation is definitely one that has undesirable results as China is a nation that is a goldmine for virtually every industry that exists.
More importantly, the producer stated that if K-Pop continues in its current state without making crucial changes, the scene will inevitably self-destruct.  He emphasized that while politics pose a problem for K-Pop in terms of fully penetrating the Chinese market, it is a problem that can be overcome in time. He continued on and stated that the bigger problem is within the music and the contents itself. He described K-Pop as homogenous and all the same. And while it might work at the moment, pretty soon, people will become sick of seeing the same dances and same faces all over again.
The data in China also supports his stance as there hasn't been a single K-Pop song that were considered hits in 2017.
On a final note, he added that the quality of K-Pop is still something that people should not underestimate as it is top notch and meticulously designed in comparison to pop music in China. But he also did emphasize that it is time that K-Pop introduces artists like Bruno Mars and Taylor Swift, to show the audience music that takes the mainstream to another level, instead of manufacturing thousands of similar idols who have nothing new to offer.
Do you agree with Billy Koh? Is K-Pop headed towards its own self destruction?
Read More : How K-Pop Aesthetics Captivate Fans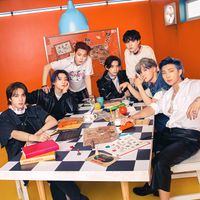 Became a fan of BTS
You can now view more their stories