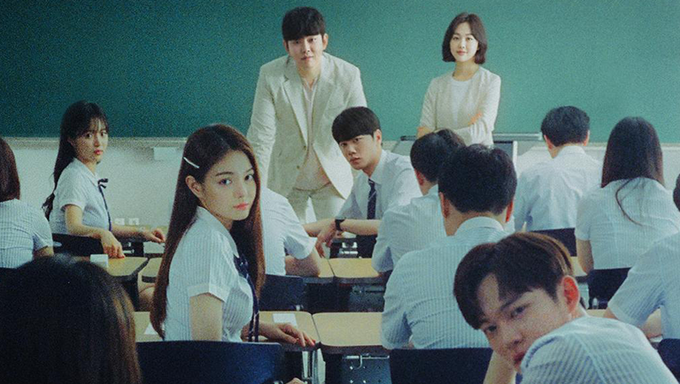 "Class of Lies" is a thriller drama of the cable channel OCN.
Yoon KyunSang is the main actor and he previously acted in such as "Pinocchio" (2014), "Six Flying Dragons" (2015), "Doctors" (2016), "Oh, The Mysterious" (2017), and "Clean With Passion For Now" (2018).
The main actress is Geum SaeRok. She mostly filmed movies but also acted in dramas such as "The Fiery Priest" (2019).
Here is more information.
Class of Lies (2019)
Information
Title: Class of Lies/Miseuteo Giganje/미스터 기간제
Director: Sung YoungIl
Writer: Jang HongCheol
Network: OCN
Runtime: From July 17
# of Episodes: –
Language: Korean
Summary
A mysterious murder takes places in the top 0.1% prestigious high school. A snob lawyer tries to uncover the truth by infiltrating the school.
Cast
Yoon KyunSang as Ki MooHyuk/Ki KangJe
A snob lawyer (Ki MooHyuk) who only cares about money lost his reputation. He disguises himself as a school teacher (Ki KangJe) at prestigious CheonMyung High School and tries to find the truth about what is going on at this school.
Geum SaeRok as Ha SoHyun
A P.E. teacher at CheonMyung High School. She unconditionally trusts and supports her students.
U-KISS's Jun as Yoo BeomJin
A student of CheonMyung High School. He is a top student who is perfect in everything. He is part of the best class of the school composed of only 4 students.
Choi YooHwa as Cha HyunJung
A criminal ace prosecutor from the legal department who has been the rival of Ki MooHyuk since the Judicial Research and Training Institute.
Interesting Facts
Here is one of the teasers.
Here are the official posters.
Read More : 4 Thriller Dramas From OCN That You Will Have To Watch In 2019