Controversial Reactions of GFriend and Red Velvet Caught in MMA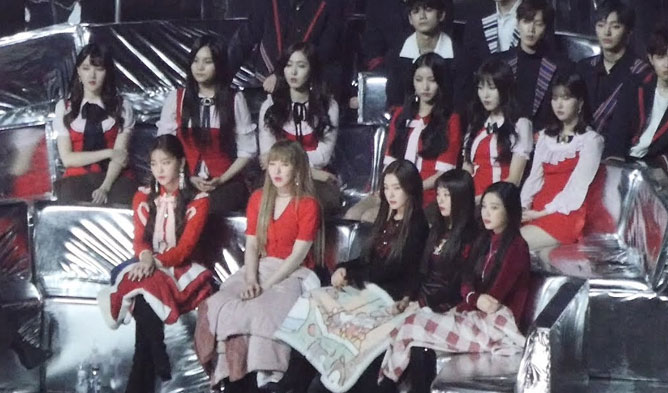 The reactions of GFriend and Red Velvet watching HyunA performing on stage are being a controversy.
The concept HyunA has as a musician and an idol is stronger than that of GFriend and Red Velvet. A lot of HyunA's songs and performances has sex symbols and are bolder than anything that of any idols. The concept of being boldly sexy has been HyunA's for quite a long time. She did have anti-fans stating that she is sexualizing everything, however, as time passed, people accepted her and her concept. 
She had her bold performances in front of many fans and idols groups recently. Her dance moves included licking her own hand and touching her breasts. What became controversial at this point was not her dance moves, but the reaction watching her performance. 
GIF
When HyunA licked her fingers,
GIF
All members of GFriend seemed to be in shock of such bold moves. Such reactions are realistic, considering what GFriend had been having as their concept.
However, what became so controversial was the reaction of Red Velvet's.  When HyunA was doing a move that involved touching her boobs, YeRi imitates her and burst into laughter with Joy. Thier actions did not mean any harm, however, it may seem as if YeRi is making fun of HyunA. Bursting into laughter may also be an offense to HyunA as well as her fans. 
GIF
GIF
Fans of Red Velvet, admit that whatever the situation and the topic was,  it was a wrongful action, especially while cameras were running. 
Must Read : IU Holds a Fan Meeting in Melon Music Awards Opened for Idols