Makeup and cosmetic products are quite important in the world of K-Pop as the idols all have to maintain and manage their visuals constantly.
And it's likely that idols will often end up becoming attached to particular products that they personally find very effective.
If you've ever wondered what some of the most popular K-Pop idols out in the scene like in terms of cosmetic and beauty products, you can get a glimpse of a few items that they like today.
And what's more, if you've also been looking for beauty products that will help you either maintain the complexion that you have or improve it, perhaps these products may help you achieve what you're looking for.
Below are some of them.
First up is veteran singer-songwriter IU.
For IU, the cosmetic product that she absolutely seems love is 'ACQUA di PARMA' body cream. IU has been using this particular body cream for several years.
It's not only soothing for the skin but also boasts a calming jasmine scent. It has been said that this body lotion's scent lasts for a long time and that there's no need to put on perfume because the jasmine scent can take care of your smell at the same time.
Next up is EXO's SuHo.
For SuHo, one of his favorite cosmetic product is the Anua HEARTLEAF 77 Soothing Toner. This particular product is highly effective in dealing with small pimples that people occasionally get from fatigue and stress.
If you've ever wondered how SuHo manages to keep his skin complexion so transparent and spotless, the Anua HEARTLEAF 77 Soothing Toner is probably one of the things that helps him out.
Up next is TWICE's NaYeon.
NaYeon's go-to cosmetic product is BULY: Lait Virginal Body Lotion - Tubéreuse Du Mexique. NaYeon has also been known to favor body lotion over perfume.
For EXO's XiuMin, it's Dr. Bronner's Lavender Pure Soap.
Given EXO's massive popularity, this particular product that can easily be found at an Olive Young store in South Korea was instantly sold out when fans discovered that XiuMin favored this product.
The mild cleanser series has been highly popular ever since and some people use different combinations of them as well for different occasions.
And last but definitely not least, BTS's V uses ZEROID Pimprove Cream. Because the product is actually very light, it's compatible with different types of skin as well.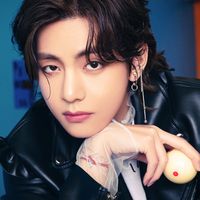 Became a fan of V
You can now view more their stories