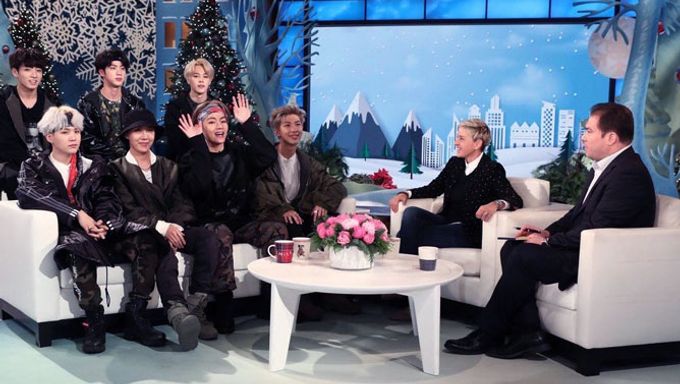 BTS recently had their visit to the U.S and attended various programs, most importantly American Music Awards (AMA )and Ellen Degeneres Show.
Before and after attending the AMA, they had a couple of short interviews and some deep talk on the Ellen show. During those interviews, the questions asked stunned BTS members. Why? Because the questions were something that is PROHIBITED implicitly to idols. Can you think of the questions that idols try to avoid and interviewers rarely question in a serious way? 
The answer is the questions about 'girlfriends' or 'boyfriends'. 
This may not be understood by the people living the western culture where celebrities freely go on dating other celebs or ordinary people publicly. There is nothing wrong with that. However, in eastern culture, or probably in Korea, it's hard for idols to be in a relationship. It's not prohibited officially but as soon as one goes public about one's relationship with another, their reputation and fame drop. Fans leave them for dating. 
I know, it's pretty harsh but that's how the idol-culture settled in. The distance fans feel towards ordinary celebs and idols is different, for that of idols' are much much closer. 
Don't believe me? Well, this cultural difference was clearly shown through the interviews BTS had in the U.S.  
1st - Ellen Degeneres Show
Ellen asks, "Have you ever hooked up with an Army (fans of BTS)?" (Rap Monster was the only one who could understand what she said without translation, so he burst into laughter alone)
The translator weakens the meaning of "hooked up" and say, "Have you ever dated any Army."
RM: We are dating our Army right now! (Looking at the fans, trying to get over with the question LOL)
Ellen does not give up and ask again the question. This time she asks the translator to translate it without changing the meaning. But the translator (panicking himself as well) asks "Have you met your fans privately?"
V shouts out "Not (No)!" strongly! 
A similar question was asked in an interview.  
The interviewee asked, why no one brought their girlfriends with them here. All BTS members answer with silence and looking at a different direction away from the interviewee in panic. 
Rap Monster, who is able to speak fluent English, jokes, "help me get one." Then the interviewee goes serious and asks if he is looking for one. Rap Monster gives an awkward laugh and answer he has "Amry" with him.
He adds "We brought thousands of our girlfriends here today."
In another interview, when they were asked by "How would you tell this to your girlfriend", Jin answered, "I cannot think.." (They were answering other questions so well before this.)
These questions asked by Ellen as well as the interviewee was a casual thing to ask in the western culture. However, in Korea, where idols dating officially is not viewed positively, the questions were hard to answer and awkward as ever!
Must Read : BBC To Release A BTS Documentary Special