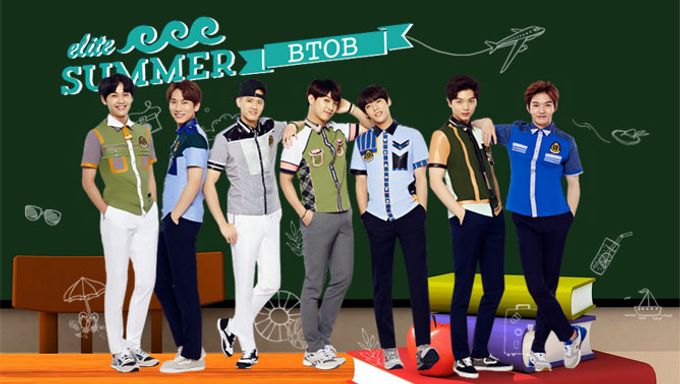 In Korea, students choose which brand they should get their uniforms from depending on the K-Pop Idols representing the brand.
A majority of Korea's advertisements feature a celebrity as the face of their campaign. But how do you choose who to represent you? Just as fast food joints and wireless companies only hire the most popular K-Pop idols to be the faces of their brand, school uniform companies only hire the daesae idol groups who most appeal to the young teen demographic. You can consider the opportunity as a stepping stone, as we've seen plenty of popular idols represent a uniform brand while in their teens-early 20's and then move onto brands of other industries that fit the trend of older age groups. Their 'young, fresh' image is best utilized in the beginning of their careers.
Must Read : 160129 Music Bank: Idol Groups With School Uniform
So, who's the latest young and fresh daesae idols of  today? Here are the current daesae idols who have snagged a spot as the face of a school uniform company's brand!
1. IVY Club with EXO & Han SungYeon
IVY Club has featured EXO as their main models for years now! Last year, EXO and Red Velvet's Irene were the faces of the brand, but now the company has switched it up to feature EXO with a rising talent, Han SungYeon.
2. Elite with BtoB & Kim SoHyun
BtoB has secured a spot as one of the most popular K-Pop boy groups by featuringon Elite with the popular child actress, Kim SoHyun!
3. SMART with iKon, BTS & GFriend
SMART Uniforms sure has a spectacular lineup as they feature not only 1 popular K-Pop group, but three! We can't help but wish for a commercial feature all three groups in one place!
4. Skoolooks with TWICE & JYP
Skoolooks takes on a brand new style of branding by featuring the latest hot girl group, TWICE, with their CEO Park JinYoung!
Is your favorite K-Pop idol representing the school uniforms of Korea? Share your favorite idol who was featured as the face of a uniform company!