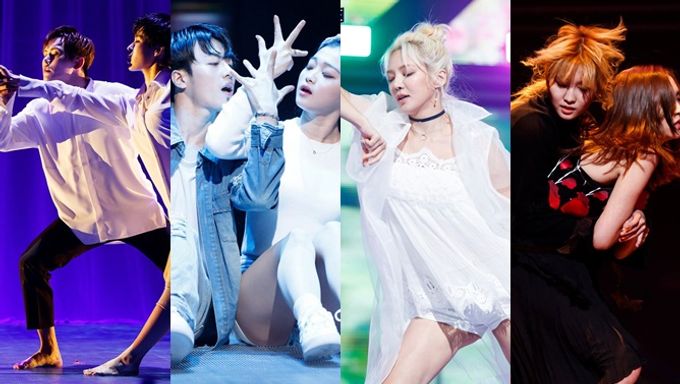 The 2nd set of performances for generation 2 took place on last night's episode of "Hit the Stage". Which idol holds the 1st place title as of now?
The next generation of K-Pop idol dance competition is here! Mnet's "Hit the Stage" first aired its pilot on July 27th, 2016. 8 K-Pop idols who are legendary dancers went head to head to become the first Hit the Stage Dancing King/Queen. For each generation, K-Pop idols will compete against each other to put on the best performance that fits a certain theme. The idols are paired off with a dance crew, and the team that best portrays and executes the theme's performance is crown the King/Queen.
Must Read : Mnet "Hit the Stage" Dance Competition: LineUp
The 2nd generation's theme was This Love, and the lineup consisted of impressive dancing idols: HyoYeon of SNSD, Jang HyunSeung, Momo of TWICE, Ten of NCT, HoYa of INFINITE, UKwon of BLOCK B, Feeldog of BIGSTAR and ChungHa of I.O.I. For the 2nd round and generation 2, the idol who holds the 1st place spot is...
 Current Ranking of Mnet's "Hit the Stage" as of August 17th
1st Place: HoYa x  Choi HyoJin (161 points) 
Must Read : Video )) INFINITE's HoYa – "Closer" on Mnet "Hit the Stage"
2nd Place: Feeldog x FEEL CRUSH (159 points) 
Must Read : Video )) BIGSTAR's Feeldog – "Work" on Mnet "Hit the Stage"
3rd Place: HyoYeon x Yoo JoonSun (149 points) 
Must Read : Video )) SNSD's HyoYeon – "Replay" on Mnet "Hit the Stage"
4th Place: Momo x TWICE's Mina(141 points) 
Must Read : Video )) TWICE's Momo – "Dangerous Love" on Mnet "Hit the Stage"
 Final Winner
HOYA CREW
Must Read : Current Ranking of Mnet's "Hit the Stage": As of August 25th